Low Potassium Vegetables
For those diagnosed with chronic kidney disease (CKD) the shock of being diagnosed with the disease is often accompanied with dietary guidelines restricting intake of potassium and other electrolytes. The next realization is that almost all vegetables contain some amount of potassium.
While this is true, there are a few vegetables out there which are low in potassium, and the amount of potassium in vegetables can be further reduced by soaking the vegetables in water before cooking in a process called leaching. This works well for vegetables which will be eaten raw. Cooked vegetables should be boiled, and the water they are boiled in should be discarded.
For this list, a low potassium vegetable can be considered to have less than 200mg of potassium per serving (please watch portion sizes). (2) The list of vegetables below serves as a suggestion of low potassium vegetables for your diet and is for informational purposes only. Please work with your primary care provider to establish a proper diet.
The amount of potassium in vegetables may vary based on the soil and conditions in which they are grown. The numbers below can be considered averages across the U.S. To be safe, incorporate new vegetables into your diet slowly and in small quantities.
Low potassium vegetables include cilantro, alfalfa sprouts, lettuce, arugula, kale, napa cabbage, leeks, spaghetti squash, sweet onions, eggplant, and more. For more low potassium vegetable ideas, see the extended list complete ranking of over 200 vegetables low in potassium.
Most vegetables are low in calories, and so should be eaten with other low potassium foods.
List of Low Potassium Vegetables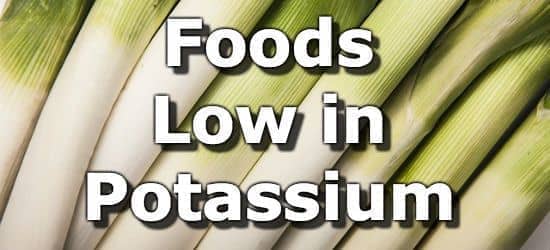 Next ➞
Click to View Comments
Data Sources and References
Want to organize and understand the foods you eat?
Sign Up to MyFoodData.com
Want to try the site without signing up? Go directly the dashboard.
Want to use MyFoodData.com without ads?
Upgrade to premium for only $10.