Nutrition Facts Database Tools and Spreadsheets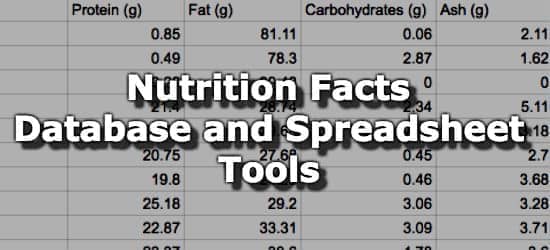 The nutrition facts on this website are driven by the USDA Agricultural Research Service (ARS) Nutrition Facts Database. You can find the raw files here, along with the documentation.
The Nutrition Facts Database in a Spreadsheet
MyFoodData.com is working on releasing the ARS Nutrition Facts Database in a series of spreadsheets for public use. With these spreadsheets you can filter down to the foods you want, and make your own calculations or tables. The first version of this spreadsheet can be found on Google Docs here. It is an early simplified version. We are working on releasing a comprehensive version with all 8000+ foods and over 100 nutrients. Please leave requests of what you would like to see in later versions in the comments, or of what calculators and tools you would like to see added.
You can also subscribe to MyFoodData.com to get the latest updates.
View the Nutrition Facts Spreadsheet Here
When using Google Docs you need to go to "File" >> "Make a Copy" in order to edit the file.
The default serving size for the spreadsheet is 100 grams.