The 10 Best Foods High in Potassium
Potassium is an essential nutrient used to maintain fluid and electrolyte balance in the body. A deficiency in potassium causes fatigue, irritability, and hypertension (high blood pressure). Unless you are on dialysis, or have a special condition, overdose of potassium from natural sources is nearly impossible; however, it is possible to consume too much potassium via potassium salts which can lead to nausea, vomiting, and even cardiac arrest.
The current daily value (%DV) for potassium is 3,500 milligrams (mg). High potassium foods include dried apricots, fish, white beans, avocados, potatoes, acorn squash, spinach, low fat yogurt, white button mushrooms, and bananas. Below is a list of high potassium foods ranked by common serving sizes, for more see the lists of high potassium foods by nutrient density, more potassium rich foods, fruits high in potassium, and vegetables high in potassium.
List of High Potassium Foods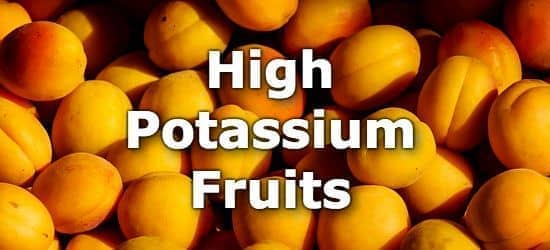 Next ➞
Printable One Page Sheet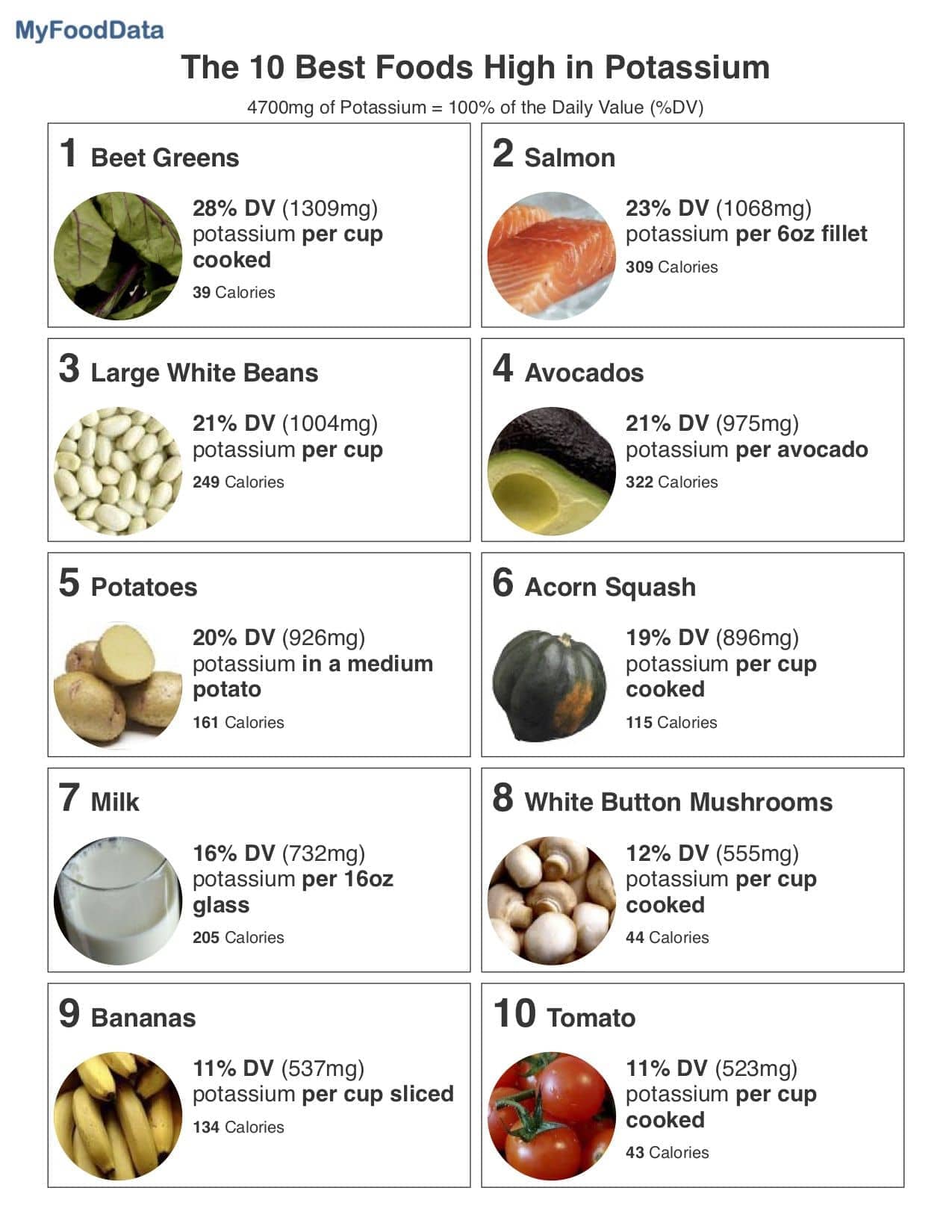 Who is at Risk for Potassium Deficiency?
Alcoholics
Long distance athletes - People who exercise over long distances lose electrolytes via sweat and need to replenish their sodium, potassium, magnesium, and phosphorus levels.
Anorexics or bulimics
People with a magnesium deficiency
People taking any of the following medications:13,14

Diuretics - Such as thiazide or furosemide
Beta-adrenergic agonists - Epinephrine
Decongestants - Pseudoephedrine, phenylpropanolamine
Bronchodilators - Albuterol, terbutaline, pirbuterol, isoetharine, fenoterol, ephedrine, isoproterenol, metaproterenol, theophylline
Tocolytic (labor suppressing) agents - Ritodrine, nylidrin
Diuretics - Acetazolamide, thiazides, chlorthalidone, indapamide, metolazone, quinethazone, bumetanide, ethacrynic acid, furosemide, torsemide
Mineralocorticoids - Fludrocortisone
Substances with mineralocorticoid effects - Licorice, carbenoxolone, gossypol
High-dose glucocorticoids
High-dose antibiotics - Penicillin, nafcillin, carbenicillin
Other - Caffeine, phenolphthalein, sodium polystyrene sulfonate
Health Benefits of Potassium
Potassium is an essential nutrients, here are some of its health benefits:
Osteoporosis Protection - Several studies have found a relation between increased bone density and increasedintake of dietary potassium. These studies were true even for post menopausal women and older men.2-4
Reduced Risk of Stroke - Several observational studies have found that those with high potassium levels experience a lowerrisk of stroke. The health benefits are likely through reduction of blood pressure combined with a diet highin fruits and vegetables.5-9
Alleviation of High Blood Pressure (Hypertension) - Studies show that a diet high in potassium, especially potassium fromfruits and vegetables, lowers blood pressure. This is especially true if the increase in potassium foods is not accompaniedby an increase in high sodium foods.10-12
How much potassium do you need each day?
The percent daily value for potassium is 3500mg per day. The recommended daily intake for adults is 4700mg per day.
Here are the breakouts of the RDIs by age group:
Age 14+: 4700mg
9-13 years old: 4500mg
4-8 years old: 3800mg
1-3 years old: 3000mg
The RDI is different from the DV since the DV is meant to be for the general public and used as a guide to compare foods. Thus the DV is meant to fit all age groups in general, while the RDI is more specific and thus, higher than the DV for adults.
I need to limit my potassium intake, what foods are low in potassium?
Foods low in potassium include most refined fats and oils, grains like cornmeal, white rice, and white pasta, some cheeses like soft goat cheese, and blueberries, leeks, and napa cabbage. Boiling vegetables in water and discarding the water they are cooked in can help reduce their potassium and electrolyte content. For more, see the article on low potassium foods, and low potassium vegetables.
Click each heading below for more information from MyFoodData.com
Click to View Comments
Data Sources and References
USDA National Nutrient Database for Standard Reference, Release 28.
New SA, Bolton-Smith C, Grubb DA, Reid DM. Nutritional influences on bone mineral density: a cross-sectional study in premenopausal women. Am J Clin Nutr. 1997;65(6):1831-1839.
New SA, Robins SP, Campbell MK, et al. Dietary influences on bone mass and bone metabolism: further evidence of a positive link between fruit and vegetable consumption and bone health? Am J Clin Nutr. 2000;71(1):142-151.
Tucker KL, Hannan MT, Chen H, Cupples LA, Wilson PW, Kiel DP. Potassium, magnesium, and fruit and vegetable intakes are associated with greater bone mineral density in elderly men and women. Am J Clin Nutr. 1999;69(4):727-736.
Ascherio A, Rimm EB, Hernan MA, et al. Intake of potassium, magnesium, calcium, and fiber and risk of stroke among US men. Circulation. 1998;98(12):1198-1204.
Iso H, Stampfer MJ, Manson JE, et al. Prospective study of calcium, potassium, and magnesium intake and risk of stroke in women. Stroke. 1999;30(9):1772-1779.
Fang J, Madhavan S, Alderman MH. Dietary potassium intake and stroke mortality. Stroke. 2000;31(7):1532-1537.
Bazzano LA, He J, Ogden LG, et al. Dietary potassium intake and risk of stroke in US men and women: National Health and Nutrition Examination Survey I epidemiologic follow-up study. Stroke. 2001;32(7):1473-1480.
Green DM, Ropper AH, Kronmal RA, Psaty BM, Burke GL. Serum potassium level and dietary potassium intake as risk factors for stroke. Neurology. 2002;59(3):314-320.
Barri YM, Wingo CS. The effects of potassium depletion and supplementation on blood pressure: a clinical review. Am J Med Sci. 1997;314(1):37-40.
Hajjar IM, Grim CE, George V, Kotchen TA. Impact of diet on blood pressure and age-related changes in blood pressure in the US population: analysis of NHANES III. Arch Intern Med. 2001;161(4):589-593.
Appel LJ, Moore TJ, Obarzanek E, et al. A clinical trial of the effects of dietary patterns on blood pressure. DASH Collaborative Research Group. N Engl J Med. 1997;336(16):1117-1124.
Gennari FJ. Hypokalemia. N Engl J Med. 1998;339(7):451-458.