Vegetables High in Copper
Vegetables comprise many of the most nutrient dense foods in our diets and copper is no exception.
Copper is an essential nutrient, responsible for producing blood cells, staving off anemia, and strengthening our bones. (1)
Vegetables high in copper include mushrooms, sweet potatoes, lima beans, turnip greens, beet greens, spinach, soybean sprouts, asparagus, artichokes, and green peas. (2) The current DV for copper is 0.9mg. (3)
For more high copper vegetables see the extended list of less common vegetables rich in copper.
---
List of Vegetables High in Copper

#1: Shiitake Mushrooms
| | |
| --- | --- |
| Copper per Cup Cooked | Copper per 100g |
| 144% DV (1.3mg) | 100% DV (0.9mg) |
Source:
Nutrition Facts for Cooked Shiitake Mushrooms
More Mushrooms High in Copper
-87% DV in 1 cup of white button mushrooms
-52% DV in 1 cup of portobellos
-48% DV in 1 cup of cremini mushrooms
-46% DV in 1 cup of morels
-41% DV in 1 cup of canned mushrooms

#2: Sweet Potatoes
| | |
| --- | --- |
| Copper per Cup Mashed | Copper per 100g |
| 79% DV (0.7mg) | 31% DV (0.3mg) |
Source:
Nutrition Facts for Mashed Sweet Potatoes

#3: Lima Beans
| | |
| --- | --- |
| Copper per Cup Cooked | Copper per 100g |
| 58% DV (0.5mg) | 34% DV (0.3mg) |
Source:
Nutrition Facts for Cooked Lima Beans

#4: Turnip Greens
| | |
| --- | --- |
| Copper per Cup Cooked | Copper per 100g |
| 40% DV (0.4mg) | 28% DV (0.3mg) |
Source:
Nutrition Facts for Cooked Turnip Greens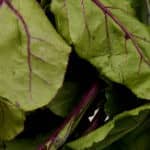 #5: Beet Greens
| | |
| --- | --- |
| Copper per Cup Cooked | Copper per 100g |
| 40% DV (0.4mg) | 28% DV (0.3mg) |
Source:
Nutrition Facts for Cooked Beet Greens

#6: Spinach
| | |
| --- | --- |
| Copper per Cup Cooked | Copper per 100g |
| 35% DV (0.3mg) | 19% DV (0.2mg) |
Source:
Nutrition Facts for Cooked Spinach
Other Leafy Greens High in Copper
-32% DV in 1 cup of Swiss chard
-27% DV in 1 cup of kale
-23% DV in 1 cup of mustard greens

#7: Soybean Sprouts
| | |
| --- | --- |
| Copper per Cup Cooked | Copper per 100g |
| 34% DV (0.3mg) | 37% DV (0.3mg) |
Source:
Nutrition Facts for Cooked Soybean Sprouts
More Sprouts High in Copper
-37% DV in 1 cup of lentil sprouts
-36% DV in 1 cup of pea sprouts
-22% DV in 1 cup of mung bean sprouts

#8: Asparagus
| | |
| --- | --- |
| Copper per Cup Cooked | Copper per 100g |
| 33% DV (0.3mg) | 18% DV (0.2mg) |
Source:
Nutrition Facts for Asparagus (Cooked)

#9: Artichokes (Globe or French)
| | |
| --- | --- |
| Copper in a Medium Artichoke | Copper per 100g |
| 33% DV (0.3mg) | 26% DV (0.2mg) |
Source:
Nutrition Facts for Artichokes (Globe Or French)

#10: Green Peas
| | |
| --- | --- |
| Copper per Cup Cooked | Copper per 100g |
| 31% DV (0.3mg) | 19% DV (0.2mg) |
Source:
Nutrition Facts for Cooked Green Peas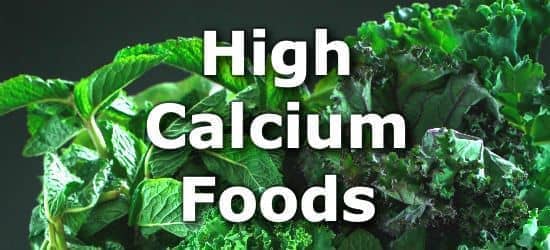 Next ➞
Printable One Page Sheet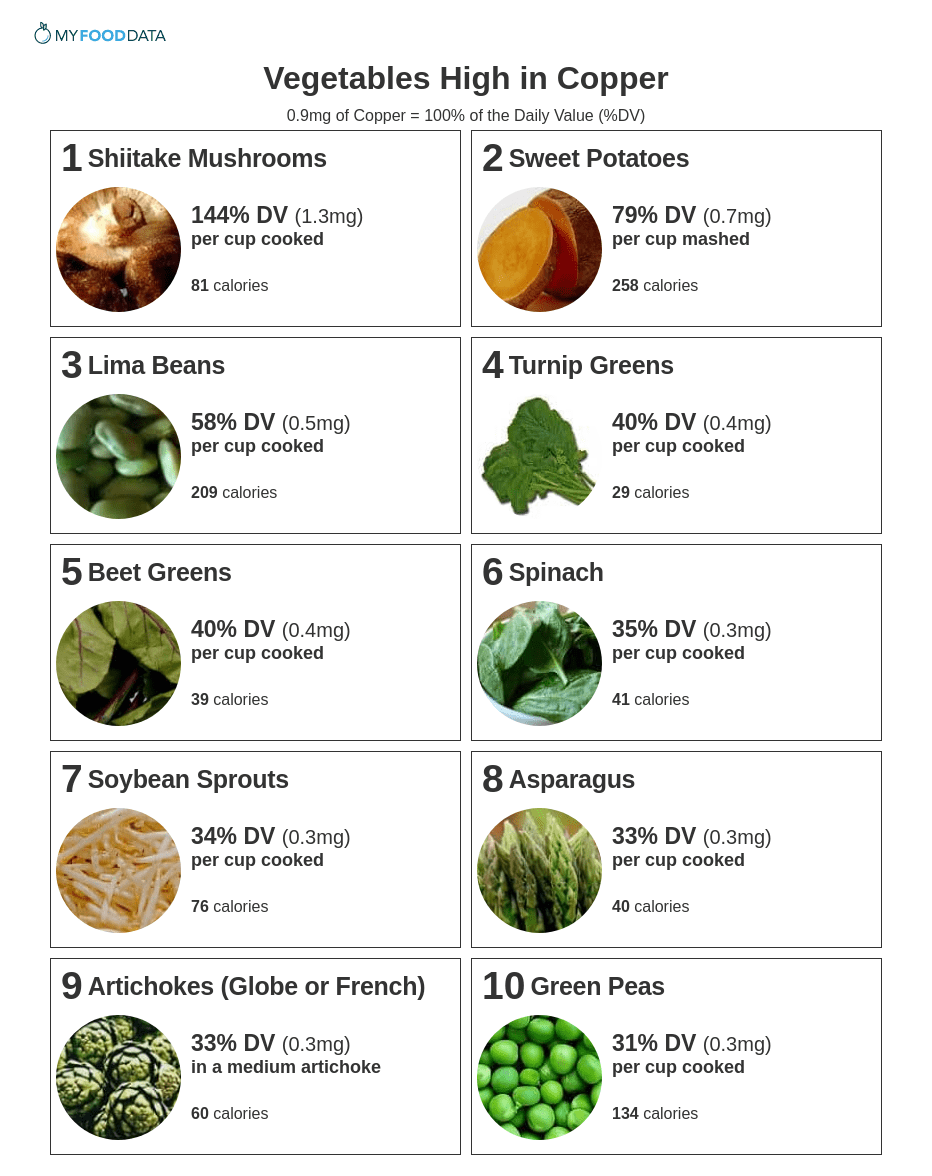 Less Common Copper Rich Vegetables
Click to View Comments
Data Sources and References
Feedback || Subscribe