Top 10 Foods Highest in Calcium
Calcium is a nutrient necessary for the growth and maintenance of strong teeth and bones, nerve signaling, muscle contraction, and secretion of certain hormones and enzymes.
A deficiency in calcium can lead to numbness in fingers and toes, muscle cramps, convulsions, lethargy, loss of appetite, and abnormal heart rhythms.
Conversely, excess calcium (particularly from supplements) can lead to kidney stones, calcification of soft tissue, and increased risk of vascular diseases like stroke and heart attack.
High calcium foods include tofu, milk, yogurt, cheese, leafy greens, beans, clams, okra, trout, and acorn squash. The daily value (DV) for calcium is 1000mg.
While there is some evidence that oxalates in beans and greens can hinder calcium absorption, green vegetables and beans are still a good source of calcium, and the calculated daily value (DV) already takes into account absorption and bio-availability. For more info, see the section on calcium absorption.
Below is a list of high calcium foods by common serving size, for more and to sort by 100 gram and 200 calorie serving sizes see the nutrient ranking of over 200 foods high in calcium. Also see the lists of high calcium vegetables, and high calcium fruits.
---
Foods High in Calcium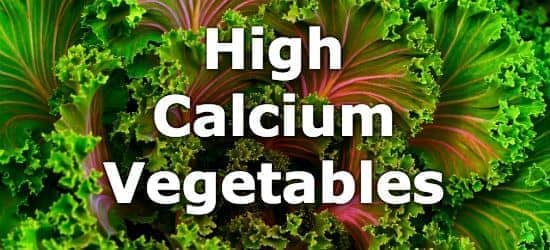 Next ➞
Factors which Affect Calcium Absorption
Amount of Calcium Consumed - The more calcium you consume, the less you absorb. Though consuming more calcium will increase your total level.2
Age - Children absorb about 60% of the calcium from foods, while adults absorb only 20%. Calcium absorption decreases with age and people over 50 should eat more calcium.2
Pregnancy - Pregnant women absorb more calcium.2
Vitamin D Intake - Vitamin D enhances calcium absorption. It can be found in foods or created by exposing skin to sunshine.2
Phytic and Oxalic Acid - Even though some studies suggest phytic and oxalic acid affect calcium absorption, people eating a balanced diet will not be affected, further, the percent daily value already accounts for this absorption factor. High amounts of oxalic acid is found in plant foods like spinach, collard greens, sweet potatoes, rhubarb, and beans. Phytic acid is found in whole bread, and wheat bran.2
Sodium, Protein, Alcohol, Caffeine (Coffee and Tea) - A diet high in sodium, protein, alcohol, and caffeine (coffee and tea) can harm absorption and retention of calcium by causing more calcium to be excreted. Alcohol also interferes with the metabolism of vitamin D.2
Health Benefits of Calcium
Bone Health and Osteoporosis (*Controversial) - Adequate intake of calcium during childhood, adolescence, and early adulthood up to age 30 is essential to increase bone mass. The higher the bone mass at this age, the lower the risk of osteoporosis.2 Many factors lead to osteoporosis and affect its severity.3 There is mixed evidence if a diet higher in calcium benefits those with osteoporosis, however, the U.S. Food and Drug Administration still suggests that a diet high in calcium in addition with vitamin D and regular exercise may reduce risk of osteoporosis.4
Lower Blood Pressure (*Controversial) - There is mixed evidence if increased intake of calcium will lower or raise blood pressure.5-7Several studies report that those who obtain calcium from plant sources are likely to have lower blood pressure and reduced risk of heartdisease.8-12 Conversely, those who predominantly consume their calcium from salty cheeses are more likely to have higher blood pressure and increasedrisk of heart disease.
Reduced Risk of Colon Cancer (*Controversial) - Several observational studies link a higher intake of calcium withreduced colon cancer risk.13-16 However, various other studies report the results to be inconclusive when compared to aplacebo group.16-18
Health Risks of Excessive Calcium Intake
Kidney Stones (*Controversial) - At least one clinical trial has shown that 7 years of vitamin D and calcium supplementationis associated with increased risk of kidney stones.30 However, several other studies report lower risk of kidney stones with increasedcalcium intake,31-33 which suggests that consumption of oxalates and lower intake of fluids are more likely to play a role in increasing kidney stone risk.34
Impairment of the Kidneys - Extremely high levels of calcium, often associated with hyperparathyroidism, as opposed to food or supplement intake, can impair functioning of the kidneys, and lead to reduced absorption of other essential minerals, such as iron, zinc, magnesium, and phosphorus.
Increased Risk of Cardiovascular Disease (*Controversial) - Some studies show that taking calcium supplements in excess of 500mg daily can increase risk of cardiovascular diseases.44,45
Increased Risk of Prostate Cancer (*Controversial) - Several studies have found a link between increased calcium intake,or 2.5 servings of dairy foods, and increased risk of prostate cancer. It is inconclusive whether the dairy products or the calcium increases the risk.19-25 However, several other studies have found no association between prostate cancer and calcium,26-29 suggesting that calcium from plant foods is better than from dairy products.
Decreased Absorption of Certain Medications - Excessive intake of calcium can decrease the absorption of the following:35-37

Biphosphonates (for osteoporosis)
Antibiotics (fluoroquinolone and tetracycline)
Levothyroxine (for hypothyroidism)
Phenytoin (an anticonvulsant)
Tiludronate disodium (for Paget's disease)
People at Risk of a Calcium Deficiency
Postmenopausal women - Due to a reduced level of the hormone estrogen, calcium absorption decreases in menopausal women.38 Unfortunately, an increased intake of calcium during this time may not help.39,40
Women who miss their menstrual period (Amenorrhea) - Amenorrhea is a condition that typically occurs in anorexic women,or women who are athletes. This is again due to a reduced level of estrogren. Increased intake of calcium foods is recommended.41
Individuals with lactose intolerance - People with lactose intolerance consume fewer dairy products, which in turn, can reduce the amount of calcium consumed.
Vegetarians and Vegans (*Controversial) - Oxalic and phytic acids found primarily in plant products are thought to reduceabsorption of calcium.42 However, consumption of meats has also been shown to increase the excretion of calcium.43 As such vegetarians and vegans might not be any worse off than omnivores, but should still be sure to eat plenty of plant foodshigh in calcium.
People taking Certain Medications:

Aluminum and magnesium containing antacids.
Mineral oil and stimulant laxatives.
Glucocorticoids, such as prednisone.
Click to View Comments
Data Sources and References
USDA National Nutrient Database for Standard Reference, Release 28.
National Osteoporosis Foundation. NOF osteoporosis prevention: risk factors for osteoporosis, 2003.
U.S. Food and Drug Administration. Food labeling: health claims; calcium and osteoporosis, and calcium, vitamin D, and osteoporosis.
Allender PS, Cutler JA, Follmann D, Cappuccio FP, Pryer J, Elliott P. Dietary calcium and blood pressure. Ann Intern Med 1996;124:825-31.
Bucher HC, Cook RJ, Guyatt GH, Lang JD, Cook DJ, Hatala R, et al. Effects of dietary calcium supplementation on blood pressure. JAMA 1996;275:1016-22.
McCarron D, Reusser M. Finding consensus in the dietary calcium-blood pressure debate. J Am Coll Nutr 1999;18:398S-405S.
American Dietetic Association, Dietitians of Canada. Position of the American Dietetic Association and Dietitians of Canada: vegetarian diets. J Am Diet Assoc 2003;103:748-65.
Rouse IL, Beilin LJ, Armstrong BK, Vandongen R. Blood-pressure-lowering effect of a vegetarian diet: controlled trial in normotensive subjects. Lancet 1983;1:5-10.
Margetts BM, Beilin L, Armstrong BK, Vandongen R. Vegetarian diet in the treatment of mild hypertension: a randomized controlled trial. J Hypertens 1985:S429-31.
Beilin LJ, Armstrong BK, Margetts BM, Rouse IL, Vandongen R. Vegetarian diet and blood pressure. Nephron 1987;47:37-41.
Berkow SE, Barnard ND. Blood pressure regulation and vegetarian diets. Nutr Rev 2005;63:1-8.
Slattery M, Edwards S, Boucher K, Anderson K, Caan B. Lifestyle and colon cancer: an assessment of factors associated with risk. Am J Epidemiol 1999;150:869-77.
Kampman E, Slattery M, Bette C, Potter J. Calcium, vitamin D, sunshine exposure, dairy products, and colon cancer risk. Cancer Causes Control 2000;11:459-66.
Holt P, Atillasoy E, Gilman J, Guss J, Moss SF, Newmark H, et al. Modulation of abnormal colonic epithelial cell proliferation and differentiation by low-fat dairy foods. JAMA 1998;280:1074-9.
Biasco G, Paganelli M. European trials on dietary supplementation for cancer prevention. Ann N Y Acad Sci 1999;889:152-6.
Cascinu S, Del Ferro E, Cioccolini P. Effects of calcium and vitamin supplementation on colon cancer cell proliferation in colorectal cancer. Cancer Invest 2000;18:411-6.
Martinez ME, Willett WC. Calcium, vitamin D, and colorectal cancer: a review of epidemiologic evidence. Cancer Epidemiol Biomarkers Prev 1998;7:163-8.
Chan JM, Stampfer MJ, Gann PH, Gaziano JM, Giovannucci EL. Dairy products, calcium, and prostate cancer risk in the Physicians Health Study. Am J Clin Nutr 2001;74:549-54.
Giovannucci EL, Rimm EB, Wolk A, Ascherio A, Stampfer MJ, Colditz GA, et al. Calcium and fructose intake in relation to risk of prostate cancer. Cancer Res 1998;58:442-7.
Chan JM, Giovannucci E, Andersson SO, Yuen J, Adami HO, Wok A. Dairy products, calcium, phosphorous, vitamin D, and risk of prostate cancer (Sweden). Cancer Causes Control 1998;9:559-66.
Chan JM, Giovannucci EL. Dairy products, calcium, and vitamin D and risk of prostate cancer. Epidemiol Rev 2001;23:87-92.
Rodriguez C, McCullough ML, Mondul AM, Jacobs EJ, Fakhrabadi-Shokoohi D, Giovannucci EL, et al. Calcium, dairy products, and risk of prostate cancer in a prospective cohort of United States men. Cancer Epidemiol Biomarkers Prev 2003;12:597-603.
Kesse E, Bertrais S, Astorg P, Jaouen A, Arnault N, Galan P, et al. Dairy products, calcium and phosphorus intake, and the risk of prostate cancer: results of the French prospective SU.VI.MAX (Supplementation en Vitamines et Mineraux Antioxydants) study. Br J Nutr 2006;95:539-45.
Mitrou PN, Albanes D, Weinstein SJ, Pietinen P, Taylor PR, Virtamo J, et al. A prospective study of dietary calcium, dairy products and prostate cancer risk (Finland). Int J Cancer 2007;120:2466-73.
Chan JM, Pietinen P, Virtanen M, Chan JM, Pietinen P, Virtanen M, et al. Diet and prostate cancer risk in a cohort of smokers, with a specific focus on calcium and phosphorus (Finland). Cancer Causes Control 2000;11:859-67.
Schuurman AG, Van den Brandt PA, Dorant E, Goldbohm RA. Animal products, calcium and protein and prostate cancer risk in the Netherlands Cohort Study. Br J Cancer 1999;80:1107-13.
Kristal AR, Stanford JL, Cohen JH, Wicklund K, Patterson RE. Vitamin and mineral supplement use is associated with reduced risk of prostate cancer. Cancer Epidemiol Biomarkers Prev 1999;8:887-92.
Vlajinac HD, Marinkovic JM, Ilic MD, Kocev NI. Diet and prostate cancer: a case-control study. Eur J Cancer 1997;33:101-7.
Jackson RD, LaCroix AZ, Gass M, Wallace RB, Robbins J, Lewis CE, et al. Calcium plus vitamin D supplementation and the risk of fractures. N Engl J Med 2006;354:669-83.
Curhan G, Willett WC, Rimm E, Stampher MJ. A prospective study of dietary calcium and other nutrients and the risk of symptomatic kidney stones. N Engl J Med 1993;328:833-8.
Bihl G, Meyers A. Recurrent renal stone disease advances in pathogenesis and clinical management. Lancet 2001;358:651-6.
Hall WD, Pettinger M, Oberman A, Watts NB, Johnson KC, Paskett ED, et al. Risk factors for kidney stones in older women in the Southern United States. Am J Med Sci 2001;322:12-8.
Borghi L, Schianchi T, Meschi T, Guerra A, Allegri F, Maggiore U, et al. Comparison of two diets for the prevention of recurrent stones in idiopathic hypercalciuria. N Engl J Med 2002;346:77-84.
Shannon MT, Wilson BA, Stang CL. Health Professionals Drug Guide. Stamford, CT: Appleton and Lange, 2000.
Jellin JM, Gregory P, Batz F, Hitchens K. Pharmacist's Letter/Prescriber's Letter Natural Medicines Comprehensive Database. 3rd ed. Stockton, CA: Therapeutic Research Facility, 2000.
Peters ML, Leonard M, Licata AA. Role of alendronate and risedronate in preventing and treating osteoporosis. Cleve Clin J Med 2001;68:945-51.
Gallagher JC, Goldgar D, Moy A. Total bone calcium in normal women: effect of age and menopause status. J Bone Min Res 1987;2:491-6.
Dawson-Hughes B, Dallal GE, Krall EA, Sadowski L, Sahyoun N, Tannenbaum S. A controlled trial of the effect of calcium supplementation on bone density in postmenopausal women. N Engl J Med 1990;323:878-83.
Elders PJ, Lips P, Netelenbos JC, van Ginkel FC, Khoe E, van der Vijgh WJ, et al. Long-term effect of calcium supplementation on bone loss in perimenopausal women. J Bone Min Res 1994;9:963-70.
Abrams SA, Silber TJ, Esteban NV, Vieira NE, Stuff JE, Meyers R, et al. Mineral balance and bone turnover in adolescents with anorexia nervosa. J Pediatr 1993;123:326-31.
Standing Committee on the Scientific Evaluation of Dietary Reference Intakes, Food and Nutrition Board, Institute of Medicine. Dietary Reference Intakes for Calcium, Phosphorus, Magnesium, Vitamin D and Fluoride. Washington, DC: National Academy Press, 1997.
Weaver CM, Heaney RP. Calcium. In: Shils ME, Shike M, Ross AC, Caballero B, Cousins RJ. Modern Nutrition in Health and Disease. 10th ed. Baltimore, MD: Lippincott Williams & Wilkins, 2006:194-210.
Mark J Bolland, senior research fellow,1 Alison Avenell, clinical senior lecturer,2 John A Baron, professor,3 Andrew Grey, associate professor,1 Graeme S MacLennan, senior research fellow,2 Greg D Gamble, research fellow,1 and Ian R Reid, professor1. Effect of calcium supplements on risk of myocardial infarction and cardiovascular events: meta-analysis. BMJ. 2010; 341: c3691. Published online 2010 July 29. doi: 10.1136/bmj.c3691.
Mark J Bolland, research fellow1, P Alan Barber, senior lecturer1, Robert N Doughty, associate professor1, Barbara Mason, research officer1, Anne Horne, research fellow1, Ruth Ames, research officer1, Gregory D Gamble, research fellow1, Andrew Grey, associate professor1, Ian R Reid, professor1. Vascular events in healthy older women receiving calcium supplementation: randomised controlled trial. BMJ 2008; 336 doi: 10.1136/bmj.39440.525752.BE (Published 31 January 2008).