Foods for Healthy Aging
Evidence Based.
References sourced from PubMed.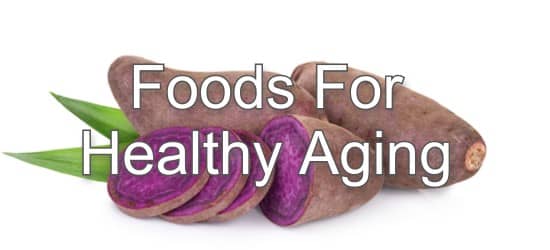 Once believed to be down to our genes, several scientific and dietary studies listed in this article show that lifestyle factors can play a big part in how we age.
This is empowering news means we have much more influence on the rate at which we age than previously thought.
Health issues as we get older include cardiovascular health, joint and bone health, preserving good eyesight, maintaining memory and cognitive function, cancer prevention, and cosmetic issues, such as skin aging. The following foods listed below provide benefits in these areas.
While no single food can have "anti-aging" powers, following a healthy, balanced diet is one of the most powerful ways to preserve good health as we get older. Eating the foods listed below is a great way to start adding foods to your diet to help increase your healthspan and longevity.
Foods for Healthy Aging
1
Okinawa Sweet Potatoes

Purple sweet potatoes are a staple of the Japanese Okinawa population who regularly live to over 100 and maintain excellent health into old age. They are a super source of a type of antioxidant called anthocyanins, also present in other purple foods such as blackberries, eggplants (aubergines), and red cabbage. Health benefits include lowering blood pressure (
1
) and reducing inflammation by suppressing the production of inflammatory chemicals. (
2
) Beneficial effects on
cholesterol levels
, kidney, and liver function have also been observed. (
3
)
Nutrition Facts for Sweet Potatoes
.
2
Turmeric

Turmeric contains curcumin, which has potent anti-inflammatory and antioxidant properties. Turmeric supplements have been shown to improve blood flow, blood vessel health and to boost heart health in middle aged and older adults (aged 45-74) after just 12 weeks. (
4
) Other benefits include improving joint health,
lowering cholesterol
, protecting bones, and preserving memory function. A 2014 study found that curcumin, may help prevent telomere shortening and could even promote their elongation. (
5
) Telomeres are the end caps of DNA, which get shorter as we age and telomere length is used as a marker for biological age.
Nutrition Facts for Ground Turmeric
.
3
Nuts

Nuts form an integral part of the healthy Mediterranean diet, known to increase health and longevity. They are one of the most nutrient-dense foods, being a top source of healthy fats, minerals, vitamins,
fiber
,
plant protein
, and a host of phytochemicals. Health benefits of regular nut eating include lowering cholesterol, protecting the heart, and reducing diabetes risk (
6
). Nuts have anti-inflammatory and antioxidant activities, which contribute to their anti-aging powers, along with added benefits if they replace some animal protein in the diet, which has aging effects on the body. (
7
)
Nutrition Facts for Brazilnuts
.
4
Oily Fish

Oily fish, such as salmon, mackerel and sardines are a top source of
omega-3 fats
, which have strong anti-inflammatory effects and provide benefits for many age-related health issues including high blood pressure, heart health, bone and joint health, brain, and eye health. Less well-known is a substance called astaxanthin, a carotenoid pigment that gives salmon its pink color. This nutrient has been linked with benefits including reducing inflammation, boosting the immune system, and benefiting eye, skin, and joint health. (
8
) Another study found promising potential benefits for dementia sufferers. (
9
)
Nutrition Facts for Farmed Atlantic Salmon
.
5
Green Tea

Green Tea is a top source of antioxidant polyphenols, which neutralize free radicals that contribute to the aging process. Polyphenols protect the heart, help
lower cholesterol
and help reduce blood sugar levels and insulin resistance. (
10
) As part of a healthy diet, green tea also encourages weight loss and may even reduce the risk of certain cancers, including colon cancer. (
11
) In addition, green tea polyphenols help protect the skin against aging and damage, including UV damage, which is the biggest contributor to skin aging.
Nutrition Facts for Green Tea
.
6
Coffee

This may be surprising, but research indicates that small amounts of coffee can contribute to healthy aging. One study linked 1-2 cups per day will lower the risk of cognitive disorders such as Alzheimer's (
12
) and 2-3 daily cups are linked with benefits for heart health. (
13
,
14
) Coffee is a rich source of protective polyphenols, including chlorogenic acids, which can help regulate appetite, blood sugar, and insulin levels. Any benefits disappear with higher consumption though and have to be weighed up against the
caffeine content
, which can cause sleep disturbances and anxiety in some people.
Nutrition Facts for Coffee
.
7
Soya

Soya is a source of phytoestrogens, natural plant compounds that can help alleviate menopausal symptoms. They work by exerting a weak estrogenic effect, which compensates to some extent for the natural decline in estrogen that takes place as women age, and helps alleviate symptoms. (
15
) Phytoestrogens also have cardioprotective effects, help lower cholesterol levels and blood pressure, keep bones and skin healthy, and protect against certain cancers. (
16
) Tofu, soya beans, and other natural soya foods like tempeh are the best sources (processed soya foods do not contain isoflavones), and flaxseeds are another good source.
Nutrition Facts for Boiled Soybeans (Edamame)
.
8
Fermented Foods (Kimchi, Sauerkraut)

Gut bacteria have a massive influence on our health, including how we age. Age alters the balance of gut bacteria, with beneficial species declining with age. Fermented foods such as sauerkraut, kimchi, and kombucha are one of the healthiest ways to improve the balance of your gut bacteria. A recent study found that probiotics, in combination with a plant-based diet and fruit and vegetable powder, appeared to have an effect equivalent to reversing the biological age of participants by three years in just 8 weeks. (
17
)
Nutrition Facts for Kimchi
.
9
Chocolate (Cacao)

Chocolate (Cacao) is one of the richest sources of antioxidants of all foods, being particularly high in a type of antioxidant called flavonols. As well as having strong protective effects, cocoa flavanols help maintain healthy blood flow, which tends to decline with age and is essential for delivering oxygen and nutrients around the body. Other proven benefits include reducing heart disease risk in postmenopausal women and protecting cognitive function and memory in the elderly. (
18
,
19
) It is important to choose good quality chocolate including raw cacao powder, raw chocolate, and dark chocolate, containing at least 70% cocoa.
Nutrition Facts for Dark Chocolate (70-85% Cocoa)
.
10
Blueberries

Blueberries are rich in flavonoids, a type of antioxidant that protects against free radical damage and aging. Blueberries have been proven to help lower blood pressure and keep blood vessels healthy; 3 or more servings a week have been linked to a lower risk of heart attacks in women. (
20
) Berries are good for keeping the eyes healthy and protecting the eyesight against damage and aging. Regular berry consumption among women is also associated with an 18% reduced risk of type 2 diabetes. (
21
) Furthermore, the polyphenols in berries may promote healthy brain aging by improving the communication between brain cells, and reducing age-related cognitive decline. (
22
)
Nutrition Facts for Blueberries
.
11
Tomatoes

Tomatoes are a top source of
lycopene
, an antioxidant linked with protecting the heart (
23
) and reducing the risk of prostate cancer. (
24
) Prostate health is a concern for men as they get older and consuming lycopene-rich foods seems to have a protective effect. (
25
) There is preliminary evidence that lycopene could even slow the growth of existing prostate cancer. (
26
) Lycopene also protects the skin against free radical damage and UV damage, which are two of the top causes of skin aging. In one study, participants who took lycopene-rich tomato extracts for 12 weeks, experienced 48% less reddening of the skin following UV exposure. (
27
)
Nutrition Facts for Tomatoes
.
12
Broccoli

Broccoli contains a range of natural plant substances called phytochemicals that have antioxidant and anti-inflammatory effects in the body (
28
); both oxidation and inflammation are processes involved in aging and many age-related diseases. Sulforaphane one of these phytochemicals, can provide some protection against cancer and enhance immune system function. (
29
) Broccoli and other dark green vegetables such as spinach and kale contain lutein, a carotenoid that helps keeps eyes healthy and protects against age-related macular degeneration and cataracts. (
30
) Broccoli also contains
calcium
and
vitamin K
, essential nutrients for healthy bones.
Nutrition Facts for Broccoli
.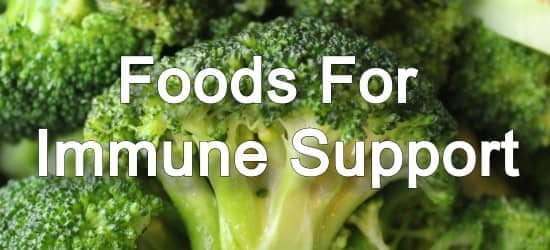 Next ➞
Tips for Healthy Aging
Follow a plant-based diet which is lower in the amino acid methionine. Methionine restriction is correlated with increased healthspan and healthy aging.
Manage stress – stress accelerates ageing, so including stress-relieving techniques such as exercise, yoga, meditation or breathing exercises is especially beneficial as we get older.
Exercise - people over 65 who take regular moderate exercise reduce their risk of dementia by a third. Daily walking has been shown to increase neurone survival and growth of new neurones in the hippocampus, which is the area of the brain related to memory and learning.
Yoga improves flexibility and balance, both important factors to maintain as we get older. Yoga is also fantastic as it increases strength and agility and helps minimise age-associated muscle loss. It can also help manage stress.
Learning a new skill changes the structure of the brain, helping it to form new connections between cells and resulting in better functioning. Learning a musical instrument or a language are particularly good for stimulating new brain connections.
Sleep - one of the most anti-ageing things you can do is to get a good night's sleep. The majority of cellular healing and repair takes place while we sleep, so it is vital for healthy ageing. Sleep deprivation is known to impair insulin sensitivity and increase blood sugar levels leading to the formation of AGE (advanced glycation end products) in the body, which are substances that accelerate cellular ageing.
Sugar is one of the most ageing foods of all. It causes raised blood sugar levels, increased AGE formation, oxidative stress and inflammation; all processes involved in ageing and disease. Try to eliminate or minimise refined, added sugars.
Finally, avoid smoking and limit alcohol consumption - both are associated with an increased risk of certain cancers and other age-related conditions, as well as causing free-radical damage and premature ageing of the skin.
Data Sources and References
feedback