Top 10 Foods to Reduce Cancer Risk (And What Foods To Avoid)
Evidence Based.
References sourced from PubMed.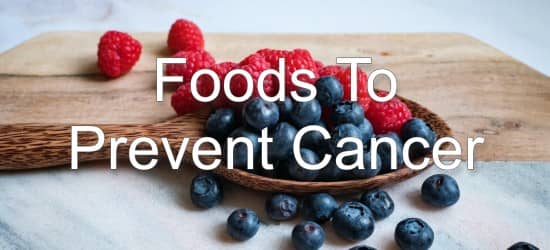 The World Health Organisation (WHO) estimates that approximately a third of deaths from cancer are related to lifestyle factors including smoking, alcohol, being overweight, low fruit and vegetable intake, and lack of physical activity (1).
In addition to avoiding smoking, over-consumption of alcohol, and a sedentary lifestyle, following a healthy diet is important for cancer prevention.
In the first instance, a healthy diet is important for maintaining a healthy weight. Being overweight increases the risk of 13 specific types of cancer and overall cancer risk (2,3).
Secondly, a healthy diet can provide some protection against cancer via the health-promoting effects of certain foods and nutrients. An unhealthy diet, on the other hand, contains elements that increase the chances of developing cancer.
When it comes to cancer prevention, there are no guarantees, but experts agree that the overall dietary pattern is fundamental and more important than individual foods. A healthy diet is one based predominantly on plant foods, with plenty of fruits, vegetables, whole grains, pulses, nuts, and seeds. Fish and moderate amounts of dairy products and poultry may also be included. Processed foods, processed meat in particular, red meat, added sugars, unhealthy fats (trans and saturated), and alcohol should be minimized (4).
Adequate fiber consumption, in particular, is associated with reduced cancer risk (5). As fiber comes from plants, a diet based principally on whole plant foods will naturally meet the requirements for fiber.
In addition, there are some specific foods and food groups that provide nutrients or plant substances, known as phytochemicals, that have been shown to have protective effects. It must be noted that these possible benefits are only present when these foods are included in the context of a healthy diet, as described. There are also certain foods linked with an increased risk of cancer, which should be avoided or minimized.
The following article summarises both beneficial and harmful foods and overall dietary and lifestyle advice for cancer prevention.
Disclaimer: None of the advice in this article is intended to be a substitute for medical treatment or advice. Nor can it cure, treat, or prevent cancer. Please always consult a Health Professional before making any changes to your diet, especially if you are undergoing treatment for cancer or any other medical condition.
List of Foods to Reduce Cancer Risk
1
Fruits and Vegetables

A diet high in fruits and vegetables is linked with a reduced risk of cancer and all-cause mortality (
6
). This is the reason that public health recommendations advise us to eat at least 5-7 servings of fruit and vegetables per day. To get the most benefits variety is key, both over the day and over the week. Each different colored fruit and vegetable provides different nutrients and phytochemicals (beneficial plant substances), hence the phrase "eat the rainbow". Fruits and vegetables have anti-inflammatory and antioxidant effects in the body, which are both protective along with containing
fiber
, vitamins, minerals, and a cocktail of phytochemicals.
2
Whole Grains

Whole grains such as brown rice, oats, and whole-wheat bread are linked with a reduced risk of total cancer and especially cancers of the digestive tract (including colon, colorectal, oesophageal, and pancreatic cancers) (
7
,
8
,
9
,
10
). These foods are high in
fiber
and many other potentially protective nutrients including vitamins, minerals, and phytochemicals. Regular consumption of refined grains on the other hand, such as white bread, white rice, and refined flour products increases cancer risk (
7
), so swapping these out of your diet for whole grains is doubly beneficial.
3
Cruciferous Vegetables (Broccoli)

Cruciferous vegetables, also known as brassica vegetables, include broccoli, cabbage, kale, Brussels sprouts, collards, and cauliflower. They contain beneficial plant chemicals or phytonutrients called glucosinolates, which are believed to influence several processes involved in the development of cancer and ultimately reduce the overall risk of cancer (
11
,
12
,
13
). In particular, a substance called sulforaphane has been shown to have anti-cancer properties, protecting cells from DNA damage and inhibiting tumor growth (
14
,
15
,
16
).
4
Fermented Foods

Fermented foods such as sauerkraut, kimchi, kombucha and miso contain beneficial, live bacteria or probiotics to help keep the gut healthy. The microbiome (gut bacteria) is believed to be involved in the development and progression of cancer via interactions with the immune system (
17
,
18
,
19
). There are specific strains of bacteria with protective effects, such as inhibiting tumor growth or boosting the immune cells that defend against cancer. There is also evidence that probiotics can be supportive for cancer treatments such as chemotherapy, enhancing effectiveness and reducing side-effects (
20
,
21
).
5
Nuts

Nuts, especially Brazil nuts, are a source of the mineral
selenium
, which has been linked with reducing the risk of certain cancers. A component of
selenium
called selenomethionine is believed to switch on a gene called p53 that may help prevent tumors from developing (
22
). It should be noted however that selenium supplements have not shown benefits and may even be harmful in some cases, so it is always advisable to
obtain selenium
from a range of healthy food sources such as nuts, seeds, fish, mushrooms, and whole grains (
23
,
24
).
6
Onions

Onions, garlic, shallots, leeks, spring onions (scallions), and chives are collectively known as allium vegetables and may have potentially protective effects against stomach cancer. Research suggests that the more of these vegetables people eat, the lower their risk of stomach cancer might be (
25
,
26
,
27
,
28
). For example, one analysis of 21 studies found that for every 20g per day eaten, there was a 9% reduced risk (
25
). These effects are thought to be due to their high content of flavanols and organosulphur compounds, which have anti-cancer properties (
28
).
7
Turmeric

One of the key active ingredients in turmeric, called curcumin, has been shown to have possible anti-cancer properties. It is believed to work by targeting various cell signaling pathways involved in cancer development and progression (
29
). Curcumin also has well-known anti-inflammatory properties (
30
), which may help reduce tumor growth as well as support the effectiveness of cancer treatments such as radiotherapy and chemotherapy while minimizing their side effects (
31
).
8
Beans and Lentils

Pulses such as beans and lentils are another
top source of dietary fiber
and also provide folate or vitamin B9. Folate is needed in the body for normal, healthy cell replication and growth. Low folate status is associated with an increased risk of cancer in some research (
32
). However, folate supplements may actually increase prostate cancer risk slightly, so it is generally better to obtain your folate from
food sources
. Other healthy sources of folate include spinach, asparagus, avocado, broccoli, oranges, mango, and whole wheat bread.
9
Soy

Consumption of soy foods in traditional Asian diets has been linked with a decreased risk of overall cancer and in particular, hormone-dependent cancers such as breast and prostate cancers (
32
,
33
,
34
,
35
,
36
,
37
,
38
). The evidence has been mixed and confusing about soya and cancer, but in 2022 a review of 81 studies found that each 25g eaten per day, could reduce cancer risk by 4%. The protective effects are believed to be due to natural substances found in soybeans called isoflavones (
32
). Traditional soy foods such as edamame, tofu, tempeh, and miso should be chosen over more highly processed soy foods.
10
Tomatoes

Tomatoes contain a substance called
lycopene
which has been shown to inhibit tumor growth in test tubes (
39
). Higher intakes of tomatoes and higher blood levels of
lycopene
have also been linked with a lower risk of various cancers in some but not all studies (
40
). In the positive studies, evidence of a benefit was strongest for cancers of the prostate, lungs, and stomach. One clinical trial gave men with high-grade prostate intraepithelial neoplasia (HGPIN) (a precursor to prostate cancer), 4mg
lycopene
twice a day for a year and found it reduced the chances of prostate cancer developing (
41
).
feedback