Top 10 Foods For Better Sleep
Evidence Based.
References sourced from PubMed.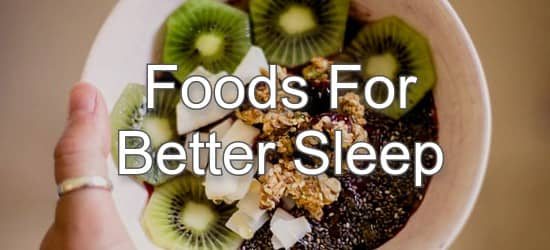 According to the National Sleep Foundation, one in three people suffer from sleep problems at some point in their lives.
Sleep is just as important as healthy eating and exercise for both physical and mental health. Lack of sleep can contribute to depression, anxiety, stress, weakened immune system (1), weight gain (2), skin aging (3), relationship problems, and an increased risk of heart disease and diabetes (1).
Busy lifestyles, however, often mean that getting enough sleep falls down the list of priorities while trying to fit in everything else life demands of us. Furthermore, features of modern life including high stress levels, artificial lighting, and technology use can all disrupt sleep.
The good news is that everyone is born with the natural ability to sleep, so if you're not sleeping well, it means something is getting in the way of your body's natural ability. Identifying and removing the cause(s) should therefore restore good quality sleep. The benefits of doing so will include improved mood, reduced disease risk, improved brain function, memory and concentration, more energy, helping appetite and weight control, and slowing down the aging process.
The following foods may also help, as they have sleep promoting effects. If eaten regularly, as part of a healthy diet and lifestyle, along with good sleep hygiene (see tips below) and genuinely making sleep a priority, they can help encourage a restful night's sleep.
Foods to Eat for Better Sleep
1
Soya Foods

Soya is a
top dietary source of tryptophan
, from which serotonin is manufactured, which in turn, is converted into the 'sleep hormone' melatonin. (
4
) Melatonin is released by the brain as it gets dark to induce sleep, so including foods that are
high in tryptophan
will ensure your body has the building blocks to produce it. One study found that consuming tryptophan-enriched cereal for 3 weeks improved sleep duration and quality in middle-aged and elderly adults. (
5
) Other good sources of tryptophan include nuts, seeds, chicken, turkey, fish, beans and eggs.
Nutrition Facts for Boiled Soybeans (Edamame)
.
2
Tart Cherries

Tart Cherries contain small amounts of the 'sleep hormone' melatonin and research suggests that they can improve sleep duration and quality (
6
). One study found that drinking concentrated tart cherry juice for 7 days raised melatonin levels and increased time in bed, total sleep time, and sleep efficiency. (
7
) Another study found similar benefits, along with reduced night awakenings and less movement during the night. Further, the benefits increased with advancing age. (
8
)
Nutrition Facts for Sour Red Cherries (Frozen)
.
3
Chamomile Tea

Chamomile Tea was traditionally used for centuries as a remedy for anxiety and insomnia, chamomile tea is a soothing evening drink, due to its sedative effects. It contains a substance called apigenin with mild anti-anxiety and sedative properties that bind to the same receptors in the body as sedative drugs, but it is of course, completely natural. (
9
) One study found that chamomile extract significantly improved sleep quality in elderly people after 28-days (
10
) and others have shown improvements in anxiety (
11
), which is often related to sleep problems. Chamomile can also be a safer alternative to benzodiazepine sleeping aids that increase the risk of falls and injuries.
Nutrition Facts for Tea Herb Brewed Chamomile
.
4
Spinach

Spinach is a
top source of the mineral magnesium
that helps calm the nervous system and relaxes muscles. Magnesium supplements for 8 weeks improved symptoms of insomnia in elderly adults, including sleep time, sleep efficiency, and reduced early morning awakenings. (
12
) Other studies have found benefits of magnesium in combination with other nutrients (melatonin,
zinc
, B vitamins) for people with insomnia. (
13
,
14
) Magnesium can also alleviate periodic limb movements during sleep and restless leg syndrome, both of which disturb sleep. (
15
)
Nutrition Facts for Cooked Spinach
.
5
Fermented Foods (Sauerkraut, Kimchi)

Sauerkraut, kimchi, and other fermented foods are a top source of probiotics, which have myriad health benefits including improving sleep quality via their actions on improving gut health. A 2021 Korean study found that probiotic supplements for 8 weeks produced significant benefits for sleep and mental health. (
16
) Another 2021 study found that prebiotics (carbohydrates that feed and stimulate the growth of the good bacteria in the gut) improved sleep quality in 70 adults, aged 35-50 suffering with moderate sleep disturbances. (
17
)
Nutrition Facts for Kimchi
.
6
Kiwifruit

Consumption of kiwifruits before bed appears to enhance the sleep of individuals with self-reported sleep disorders and may also promote sleep in healthy individuals. (
18
) One study gave subjects aged 20-55 years, 2 kiwifruit an hour before bed for 4 weeks and found improvements in total sleep duration and quality, they also fell asleep more quickly and woke up less in the night. Kiwifruit also have a high serotonin content, which could account for these effects, along with antioxidants and
folate
, both of which have been associated with benefits relating to sleep. (
19
)
Nutrition Facts for Kiwifruit
.
7
Oily Fish

Oily Fish provides
vitamin D
and
omega-3 fatty acids
, both of which are involved in serotonin regulation and therefore in sleep regulation. One study gave US prison inmates oily fish three times a week for 5 months (over the winter) and reported some improvements in sleep quality and daily functioning. (
20
) Vitamin D deficiency has been previously linked with poor sleep and supplements have led to improvements.(
21
,
22
)
Omega-3 fats
have also been shown to reduce sleep disturbances in children with clinical sleep problems. (
23
)
Nutrition Facts for Cooked Oatmeal
.
8
Oatmeal

Oats and other complex carbohydrates, such as brown rice, sweet potatoes, wholewheat breads and pastas help raise the body's levels of serotonin. (
24
)
Tryptophan
is used to make serotonin and melatonin, the hormone that induces sleep, and eating carbohydrate foods makes tryptophan more available to the brain. Eating an evening meal containing complex carbohydrates combined with protein (to provide the tryptophan) can therefore help induce sleep. Oats also contain some
tryptophan
and wholegrains, in general, are a
good source of magnesium
.
Nutrition Facts for Cooked Oatmeal
.
9
Nuts

Nuts, specifically walnuts, contain small quantities of melatonin (
25
), along with sleep-promoting minerals
magnesium
and
zinc
. An Italian study found that
magnesium
,
zinc
, and melatonin supplements improved sleep in care home residents suffering with insomnia. (
14
)
Magnesium
promotes the release of a neurotransmitter called GABA in the brain (
26
,
27
) that calms the nervous system and the mind, reduces thoughts and helps promote sleep. Nuts and seeds are also another top source of
tryptophan
for melatonin production.
Nutrition Facts for Brazilnuts
.
10
Malted Milk

A glass of warm milk is a popular night time drink, believed to encourage a good night's sleep. The evidence for regular milk is limited, but it's better for malted milk. (
28
) Milk is a source of
tryptophan
and when milk is malted (adding carbohydrate), this raises blood sugar levels, allowing more
tryptophan
to cross the blood brain barrier and enter the brain. Malted milk is also a source of various vitamins linked with sleep physiology, including
vitamins D
,
B12
and
B6
. (
18
) Two small studies in the 1970s observed reduced restlessness and movements during sleep following a night-time drink of malted milk. (
29
,
30
)
Nutrition Facts for Milk Malted
.
feedback