The Best Foods To Relieve Stress
Evidence Based.
References sourced from PubMed.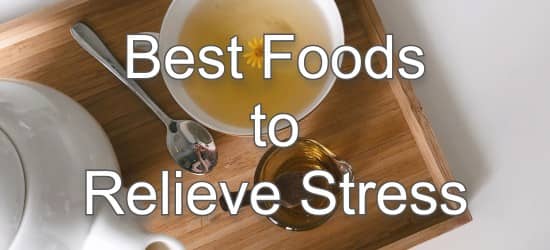 When faced with a stressful event, the body releases the stress hormones cortisol and noradrenalin (norepinephrine).
In the short term, these hormones help us to deal with the cause of our stress. However, when stress becomes chronic, as it often does with modern lifestyles, it leads to various negative effects upon our health and wellbeing.
We are all familiar with the symptoms of stress, such as raised heart rate, anxiety, and shortness of breath. In addition, stress affects our mood, ability to concentrate, our energy levels, appetite, and sleep.
Chronic or long-term stress can eventually affect other systems of the body such as the immune, digestive, and reproductive systems. This can result in increased susceptibility to colds and infections (1), an increased risk of digestive issues such as IBS, and fertility problems. Stress is also associated with an increased risk of various diseases such as cardiovascular disease and some cancers (2,3).
There are various ways to help manage stress and its consequences, some of which are outlined below. Eating a healthy, balanced diet is important to ensure you get the nutrients your body needs to stay resilient in the face of stress. Eating a wide range of plant foods, including at least 7 portions of fruit and vegetables every day, plus plenty of nuts, seeds, beans, lentils, and whole grains is fundamental.
Below is a list of research-backed foods to help relieve stress and get you back on track.
Best Foods for Stress Relief
1
Soya Foods

2
Blueberries

Blueberries are rich in flavonoids, which stimulate the production of nitric oxide, a natural substance that causes blood vessels to relax. This can improve blood flow and oxygen delivery to the brain and has been shown to enhance cognitive function and health (
5
). Flavonoids also support blood sugar balance for stable energy levels and mood and blueberries are
high in vitamin C
, which is needed for supporting the body's stress systems.
Nutrition Facts for Blueberries
.
3
Cocoa

Cocoa contains a substance called phenylethylamine (PEA), which is the neurotransmitter (brain chemical) released when we fall in love, leading to feelings of pleasure, emotional well-being, and even bliss (
6
). Various studies have observed immediate improvements in mood after eating chocolate (
7
,
8
). Cocoa is another top source of flavonoids for supporting brain health and function (
5
) and is rich in magnesium, which helps promote relaxation. Despite the immediate stress-relieving benefits, overconsumption of chocolate or long-term use of chocolate is unlikely to relieve stress in the long term (
8
). Eat chocolate in moderation when coping with chronic stress.
Nutrition Facts for Dark Chocolate (70-85% Cocoa)
.
4
Chamomile Tea

Traditionally used for centuries as a remedy for anxiety, chamomile contains a substance called apigenin with mild anti-anxiety and sedative properties that bind to the same receptors in the body as sedative drugs, but it is completely natural (
9
). One study found improvements in anxiety and mood in people with mild to moderate generalised anxiety disorder, following 8 weeks of chamomile extract (
10
).
Nutrition Facts for Tea Herb Brewed Chamomile
.
5
Whole Grains

A diet rich in whole grains such as oats, brown rice, and wholewheat pasta helps stress-prone people cope better with stressful situations according to a Dutch study (
11
). These foods contain
complex carbohydrates
and
vitamin B3
, which play and important part in the creation of the "happy hormone" serotonin. Whole grains are also
high in fiber
which feeds good bacteria living in the gut, which subsequently benefits mental health (see below).
Nutrition Facts for Cooked Brown Rice
.
6
Oily Fish (Salmon)

Oily fish are rich in the
omega-3 fats
DHA and EPA, vital for a healthy brain and nerve function, and to help balance emotions. Low levels of omega-3s have been reported in people with anxiety and some studies have found supplements have the potential to reduce some of the symptoms of anxiety (
12
). Higher fish consumption is also linked with a reduced risk of depression (
13
). Oily fish is the
best dietary source of vitamin D
, which helps promote a positive mood, especially in winter (
14
).
Nutrition Facts for Farmed Atlantic Salmon
.
7
Nuts

8
Probiotic Foods

The gut bacteria or "microbiome" influence psychological health via the gut-brain axis, which is a two-way communication between the gut and the central nervous system. A 2016 meta-analysis (a large study, pooling the results of many studies) found that probiotic supplements reduced symptoms of stress, depression, and anxiety in healthy people (
19
). Fermented foods containing natural probiotics include live yogurt, kefir, sauerkraut, kimchi, kombucha, and some artisan cheeses.
Nutrition Facts for Non-Fat Yogurt
.
9
Turmeric

A recent 2021 study found that turmeric extract improved mental health and mood disturbance in overweight, but otherwise healthy people. Mental health scores improved and negative mood, anger, and hostility were all reduced after 12 weeks (
20
). Turmeric is well known to have anti-inflammatory properties and this is believed to be the reason for these effects. Low-grade, chronic inflammation is believed to be associated with many health problems, including depression and other mental health conditions (
21
,
22
,
23
).
Nutrition Facts for Ground Turmeric
.
10
Green Vegetables

Green vegetables such as broccoli, spinach and kale are high in several nutrients that benefit the nervous system, including magnesium, folate,
fiber
, B vitamins,
iron
, and
vitamin C
. Magnesium deficiency has been linked with psychological stress (
24
) and supplements have shown benefits for anxiety sufferers (
25
). Low folate levels have been linked with depression (
26
,
27
). Both iron and B vitamins are required for energy production in the body and a lack can lead to fatigue and low mood.
Nutrition Facts for Broccoli (Cooked)
.
11
Guavas

Guavas are a
top source of vitamin C
, which has been shown to reduce stress hormone levels. One study gave healthy adults vitamin C supplements for 2 weeks and then gave them a stress test (involving public speaking and mental arithmetic). They experienced smaller elevations in blood pressure, had lower anxiety scores and their stress hormone levels returned to normal more quickly after the test compared with the placebo group (
28
). Other
top sources of vitamin C
include kiwifruit, red peppers, citrus fruit, strawberries, papaya, and broccoli.
Nutrition Facts for Guavas
.
Stress Relieving Techniques
Data Sources and References
feedback