Healthy Foods To Reduce Cravings (That Taste Good, Too)
Evidence Based.
References sourced from PubMed.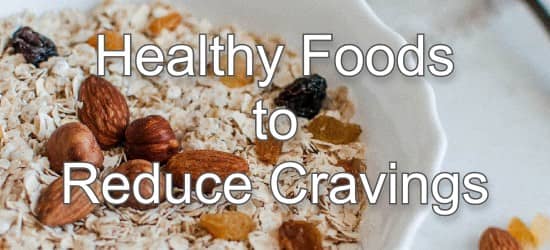 A food craving is an intense desire for a specific food. It can feel uncontrollable and tends to be for unhealthy foods, high in sugar, salt, fat, or a combination of these. For anyone trying to manage their weight or simply stay healthy, food cravings can sabotage the best of intentions.
Food cravings have various causes including being overly hungry, tired, or sleep deprived. Low blood sugar levels, dehydration, hormones, stress, and other emotional factors also affect us. The good news is that there are various ways we can manage our diet and lifestyle to minimize cravings.
The basis for reducing cravings should always be a balanced diet, providing all the essential food groups and nutrients our bodies need for good health.
Keeping blood sugar levels balanced is also key to reducing cravings. When our blood sugar levels become too low, we can experience a range of symptoms including cravings for sugary foods, low energy, poor concentration, and irritability. Many of the foods listed here, therefore help with blood sugar regulation, while others help keep us feeling full and satisfied. In the further tips section below, you can find advice for managing the non-dietary reasons mentioned, such as sleep and stress.
Foods to Reduce Cravings
1
Water

Thirst signals can be confused with hunger signals (
1
), so simply staying hydrated and drinking plenty of water and other fluids throughout the day can help manage cravings. Sipping on 8 cups (2 liters) spread out across the day should be enough to manage cravings. Foods with a high water content such as
soups
, porridge,
fruits
, and
vegetables
are also useful, as they help keep you feeling full for longer (
2
).
Nutrition Facts for Tap Water
.
2
Oats

Oats and other
whole grains
are great for balancing blood sugar, as they release their energy slowly and gradually into the bloodstream. In contrast,
refined carbohydrates
such as white bread, white rice, and pastries release their energy quickly, causing blood sugar highs and lows, that can lead to cravings. Oats are especially good as they are
high in soluble fiber
, which is excellent for keeping you feeling full for longer (
3
).
Nutrition Facts for Cooked Oatmeal
.
3
Cinnamon

Cinnamon has been shown in some studies to help control blood sugar levels (
4
,
5
), which as mentioned, can help reduce cravings. The effects of cinnamon have been studied mainly in people with type 2 diabetes and pre-diabetes and it has shown promising effects on fasting blood glucose levels. An ideal breakfast could therefore be oatmeal porridge (see number 2 above), with cinnamon sprinkled on top plus some nuts, seeds, or yogurt for
extra protein
.
Nutrition Facts for Cinnamon
.
4
Spinach

Spinach and other green vegetables contain substances called thylakoids that have been shown to reduce hunger, increase satiety and reduce cravings for salty, sweet, and fatty snacks throughout the day (
6
). Thylakoids appear to promote the release of satiety hormones in the body, which leads to the aforementioned effects (
7
,
8
). The research has been done using extracts from leafy greens, but as these foods are also high in water,
vitamins
, and
minerals
, increasing their intake is certainly a good idea.
Nutrition Facts for Cooked Spinach
.
5
Eggs

To balance blood sugar levels, it is important to include some
healthy protein
with meals (and snacks), such as eggs, fish, tofu, or beans, in combination with
slow-releasing carbohydrates
(whole grains, sweet potatoes, and other starchy vegetables). This is the winning combination for keeping blood sugar levels balanced, appetite in check, and banishing those cravings. Eating two eggs for breakfast has also been shown in studies to increase satiety and reduce short-term food intake (
9
).
Nutrition Facts for Hard Boiled Eggs
.
6
Probiotics

Live yogurt and other probiotic foods such as sauerkraut, kefir, and kimchi may help reduce cravings via their effects on gut bacteria. The balance of bacteria in the gut, known collectively as the 'microbiome' has far-reaching effects on many areas of health, including weight, appetite, and even food cravings. It is believed that certain bacteria could stimulate food cravings to motivate us to eat foods that either benefit them or suppress their competitors (as the gut environment is all about competition between different bacterial strains for space, food, etc) (
10
).
Nutrition Facts for Non-Fat Yogurt
.
7
Pulses

Pulses such as beans, chickpeas, and lentils contain the perfect balance of
slow-releasing carbohydrates
,
protein
, and
fiber
, making them great for blood sugar balance and keeping you feeling full. Both of these effects will help reduce the likelihood of food cravings. Research shows that eating meals containing pulses, does keep people feeling full and satisfied for longer (
11
).
Nutrition Facts for Lentils (Cooked)
.
8
Chia Seeds

Chia seeds are a great source of
satiating fiber
,
healthy fats
, and
plant protein
. One study found that eating yogurt enriched with chia seeds as a mid-morning snack reduced hunger and desire for sugary foods while promoting satiety and reducing the amount eaten later that day (
12
). There is preliminary evidence that chia seeds may also support people trying to lose weight and improve various other health outcomes (
13
).
Nutrition Facts for Chia Seeds
.
9
Pistachios

One study found that eating 1.5oz (42g) of pistachios every day for 4 months helped people manage their weight and reduced the number of sweets they ate (
14
). Another found that snacking on pistachios every day mid-morning for 12 weeks reduced hunger and increased satiety (
15
). Nuts in general tend to be a highly satisfying snack, helping people control their appetite and eat less.
Nutrition Facts for Dry Roasted Pistachio Nuts
.
10
Avocados

One study found that eating avocados as part of a meal helped people feel more satisfied and reduced appetite following the meal. These effects were due to effects on satiety hormones and the hormone insulin, which is involved in blood sugar regulation (
16
). Another study found that eating half an avocado with lunch increased satiety by 23% and reduced the desire to eat by 28% for 3-5 hours (
17
).
Nutrition Facts for Avocados
.
Tips for Reducing Cravings
Regular eating - One of the most guaranteed ways to get cravings is being overly hungry. Regular eating is therefore key to preventing cravings. Ideally, we should be eating something every 4-5 hours. This means breakfast, lunch, and dinner are appropriately spaced out, plus 1 or 2 healthy snacks.
Avoid ultra-processed foods - Widely available, ultra-processed foods can contribute to food cravings and obesity (18,19,20,21). This is in part due to their high content of unhealthy fats, sugar, and/or salt, making them highly palatable and setting up a desire to consume more and more. Avoiding or minimizing these foods and consuming a diet based on whole foods is therefore advisable to manage cravings and for overall health.
Sleep - When we sleep well, the body releases higher levels of a hormone called leptin, which wards off hunger. When we are sleep-deprived, on the other hand, our bodies tend to produce more of a hormone called ghrelin, which increases appetite and desire for high-energy foods.(22)
Exercise - Include exercise in your daily routine, as it has a positive effect on blood glucose control (23). In addition, exercise releases endorphins (happy chemicals) and helps manage stress.
Manage stress - Try to manage stress and increase time for relaxation, as stress can disrupt blood sugar levels and increase food cravings (24). The stress hormone cortisol increases our drive to snack on high-calorie foods.
Avoid fad diets - Restricting your food intake or limiting certain food groups, as advocated by many popular diets, is another sure way to set up a cycle of restriction, cravings, and over-eating (and even binging and disordered eating in some cases). Instead, focus on nourishing your body with the healthy foods it needs for good health.
Data Sources and References
feedback