Top 15 Foods Highest in Vitamins
Want to know which foods are the best sources of vitamins? We looked at all our top 10 lists for 14 different vitamins, including: Vitamins A, B1, B2, B3, B5, B6, B9, B12, C, D, E, K, Beta Carotene, and Lycopene and counted how many times each food appeared.
Since some vitamins are fat soluble (need fat to be absorbed) meats, oils, and dairy tend to be a better source than leafy vegetables or fruits. The top 15 foods highest in vitamins include fish, dark leafy greens, seeds, broccoli, pork, beef, lamb, mushrooms, nuts, eggs, sweet bell peppers, avocados, peas, winter squash, and fruits.
Want to know more? Check the extended list of vitamin rich foods, or all complete collection of the most nutritious foods lists.
---
List of High Vitamin Foods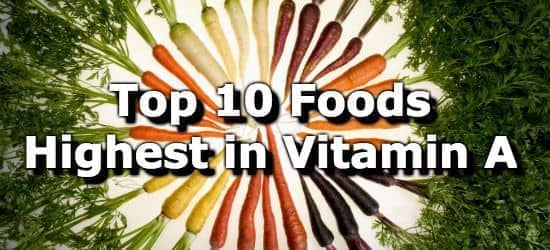 Next ➞
More Vitamin Rich Foods
In addition to those in the top 15, here are more high vitamin foods which appeared on the
most nutritious foods lists
.
| | |
| --- | --- |
| Asparagus | High in Vitamins B1, B9, K, and Lycopene |
| Liver | High in Vitamins A, B3, and B12 |
| Carrots | High in Vitamin A, Beta Carotene, and Lycopene |
| Cheese | High in Vitamins B2, B5, and B12 |
| Shellfish | High in Vitamins B2, B12, and E |
| Sweet Potatoes | High in Vitamins A, B5, and Beta Carotene |
| Beans | High in Vitamins B1, and B9 |
| Bread | High in Vitamins B1, and B9 |
| Cantaloupe | High in Vitamins A, and Beta Carotene |
| Guavas | High in Vitamin C, and Lycopene |
| Kiwifruit | High in Vitamins C, and E |
| Plant Oils (Olive Oil) | High in Vitamins E and K |
| Tomatoes | High in Vitamin C, and Lycopene |
| Fortified Tofu | High in Vitamins B12 and D |
| Cereals | High in Vitamins B12 and D |
| Bananas | High in Vitamin B6 |
| Berries (Strawberries) | High in Vitamin C |
| Citrus Fruits | High in Vitamin C |
| Dry Roasted Soybeans | High in Vitamin B1 |
| Peanuts | High in Vitamin B3 |
| Lentils | High in Vitamin B9 |
Click to View Comments
Data Sources and References