17 Vegetables Highest in Water
Water is an essential nutrient required to maintain homeostasis in our bodies. A deficiency in water, called dehydration, leads to headaches, loss of appetite, confusion, unexplained tiredness, and even seizures. Excessive dehydration can even lead to death.
Conversely consuming too much water can lead to nausea, muscle cramps, vomiting, and in extreme cases, death.
The U.S. Reference Dietary Intake (RDI) of water is 3.7 liters (130oz) per day for men and 2.7 liters (95oz) for women. Though people who are active and under the sun may need up to 16 liters (565oz) per day.
Of all foods, vegetables provide the most water, often being over 90% water by weight. Vegetables high in water include lettuce, celery, bok choy, radish, cucumber, zucchini, watercress, tomatoes, green bell peppers, and asparagus.
In addition to the 17 vegetables listed below, you can see the and sort the nutrient ranking of over 200 vegetables high in water.
---
List of Vegetables High in Water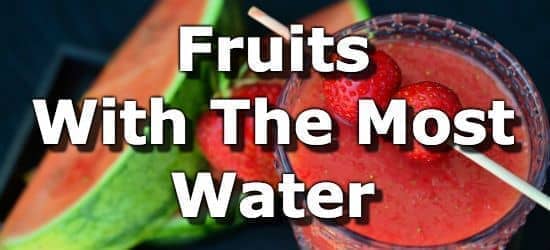 Next ➞
feedback
Data Sources and References
MyFoodData provides nutrition data tools and articles to help you organize and understand the foods you eat. Read more...