Top 10 Fruits Highest in Zinc
Zinc is an essential nutrient needed for wound healing and for proper immune function. Zinc is the only nutrient proven to reduce the duration of the common cold.
Zinc found in plant foods like fruits is not as bioavailable as zinc in animal foods, however, fruits can still be a good source of zinc, and there is no need to eat meats or take supplements.
The daily value (%DV) for zinc is 11mg per day, but people on a plant-based diet should aim to consume 30mg. High zinc fruits include avocados, blackberries, pomegranates, raspberries, guavas, cantaloupes, apricots, peaches, kiwifruit, and blueberries. These fruits provide 2-12% of the daily value per cup.
The list below gives the 10 best high zinc fruits ranked by a common serving size of 1 cup. For more zinc foods, see the list of high zinc foods for vegans and vegetarians, high zinc vegetables, and the complete nutrient ranking of over 100 fruits high in zinc.
List of Fruits High in Zinc

#1: Avocados
| | |
| --- | --- |
| Zinc per Avocado | Zinc per 100g |
| 12% DV (1.3mg) | 6% DV (0.6mg) |
Source:
Nutrition Facts for Avocados
10% DV zinc per cup of California avocados

#2: Blackberries
| | |
| --- | --- |
| Zinc per Cup | Zinc per 100g |
| 7% DV (0.8mg) | 5% DV (0.5mg) |
Source:
Nutrition Facts for Blackberries

#3: Pomegranate
| | |
| --- | --- |
| Zinc per Cup | Zinc per 100g |
| 6% DV (0.6mg) | 3% DV (0.4mg) |
Source:
Nutrition Facts for Pomegranates

#4: Raspberries
| | |
| --- | --- |
| Zinc per Cup | Zinc per 100g |
| 5% DV (0.5mg) | 4% DV (0.4mg) |
Source:
Nutrition Facts for Raspberries

#5: Guavas
| | |
| --- | --- |
| Zinc per Cup | Zinc per 100g |
| 3% DV (0.4mg) | 2% DV (0.2mg) |
Source:
Nutrition Facts for Guavas

#6: Cantaloupe
| | |
| --- | --- |
| Zinc per Cup | Zinc per 100g |
| 3% DV (0.3mg) | 2% DV (0.2mg) |
Source:
Nutrition Facts for Cantaloupe Melons

#7: Apricots
| | |
| --- | --- |
| Zinc per Cup | Zinc per 100g |
| 3% DV (0.3mg) | 2% DV (0.2mg) |
Source:
Nutrition Facts for Apricots

#8: Peaches
| | |
| --- | --- |
| Zinc per Cup | Zinc per 100g |
| 2% DV (0.3mg) | 2% DV (0.2mg) |
Source:
Nutrition Facts for Yellow Peaches

#9: Kiwifruit
| | |
| --- | --- |
| Zinc per Cup | Zinc per 100g |
| 2% DV (0.3mg) | 1% DV (0.1mg) |
Source:
Nutrition Facts for Kiwifruit

#10: Blueberries
| | |
| --- | --- |
| Zinc per Cup | Zinc per 100g |
| 2% DV (0.2mg) | 1% DV (0.2mg) |
Source:
Nutrition Facts for Blueberries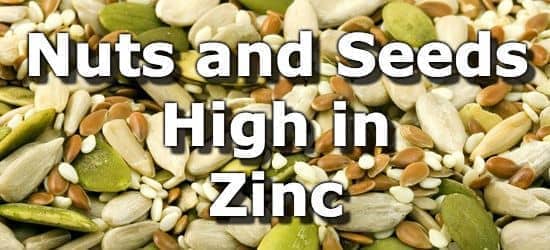 Next ➞
Click to View Comments
Data Sources and References
Feedback || Subscribe