Fruits High in Copper
An adequate intake of copper is necessary for a healthy immune system and healthy bones. Copper also works with iron to create blood cells and reduce the risk of anemia. (1)

Fruits can be a good source of fiber, protein, iron, and even copper.

Fruits high in copper include durian, avocados, guavas, pomegranates, blackberries, kiwifruit, mangos, pineapples, apricots, and bananas. (2) The current daily value (DV) for copper is 0.9mg. (3)

For more high copper fruits see the extended list of less common fruits rich in copper and dried fruits high in copper.
---
List of Fruits High in Copper

#1: Durian
| | |
| --- | --- |
| Copper per Cup Chopped | Copper per 100g |
| 56% DV (0.5mg) | 23% DV (0.2mg) |
Source:
Nutrition Facts for Durian

#2: Avocados
| | |
| --- | --- |
| Copper per Avocado | Copper per 100g |
| 42% DV (0.4mg) | 21% DV (0.2mg) |
Source:
Nutrition Facts for Avocados

#3: Guavas
| | |
| --- | --- |
| Copper per Cup | Copper per 100g |
| 42% DV (0.4mg) | 26% DV (0.2mg) |
Source:
Nutrition Facts for Guavas

#4: Pomegranate
| | |
| --- | --- |
| Copper per Cup | Copper per 100g |
| 31% DV (0.3mg) | 18% DV (0.2mg) |
Source:
Nutrition Facts for Pomegranates

#5: Blackberries
| | |
| --- | --- |
| Copper per Cup | Copper per 100g |
| 26% DV (0.2mg) | 18% DV (0.2mg) |
Source:
Nutrition Facts for Blackberries

#6: Kiwifruit
| | |
| --- | --- |
| Copper per Cup | Copper per 100g |
| 26% DV (0.2mg) | 14% DV (0.1mg) |
Source:
Nutrition Facts for Kiwifruit

#7: Mangos
| | |
| --- | --- |
| Copper per Cup | Copper per 100g |
| 20% DV (0.2mg) | 12% DV (0.1mg) |
Source:
Nutrition Facts for Mangos

#8: Pineapple
| | |
| --- | --- |
| Copper per Cup | Copper per 100g |
| 20% DV (0.2mg) | 12% DV (0.1mg) |
Source:
Nutrition Facts for Pineapple

#9: Apricots
| | |
| --- | --- |
| Copper per Cup | Copper per 100g |
| 13% DV (0.1mg) | 9% DV (0.1mg) |
Source:
Nutrition Facts for Apricots

#10: Bananas
| | |
| --- | --- |
| Copper per Cup Sliced | Copper per 100g |
| 13% DV (0.1mg) | 9% DV (0.1mg) |
Source:
Nutrition Facts for Bananas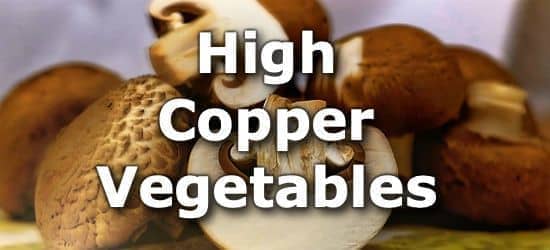 Next ➞
Printable One Page Sheet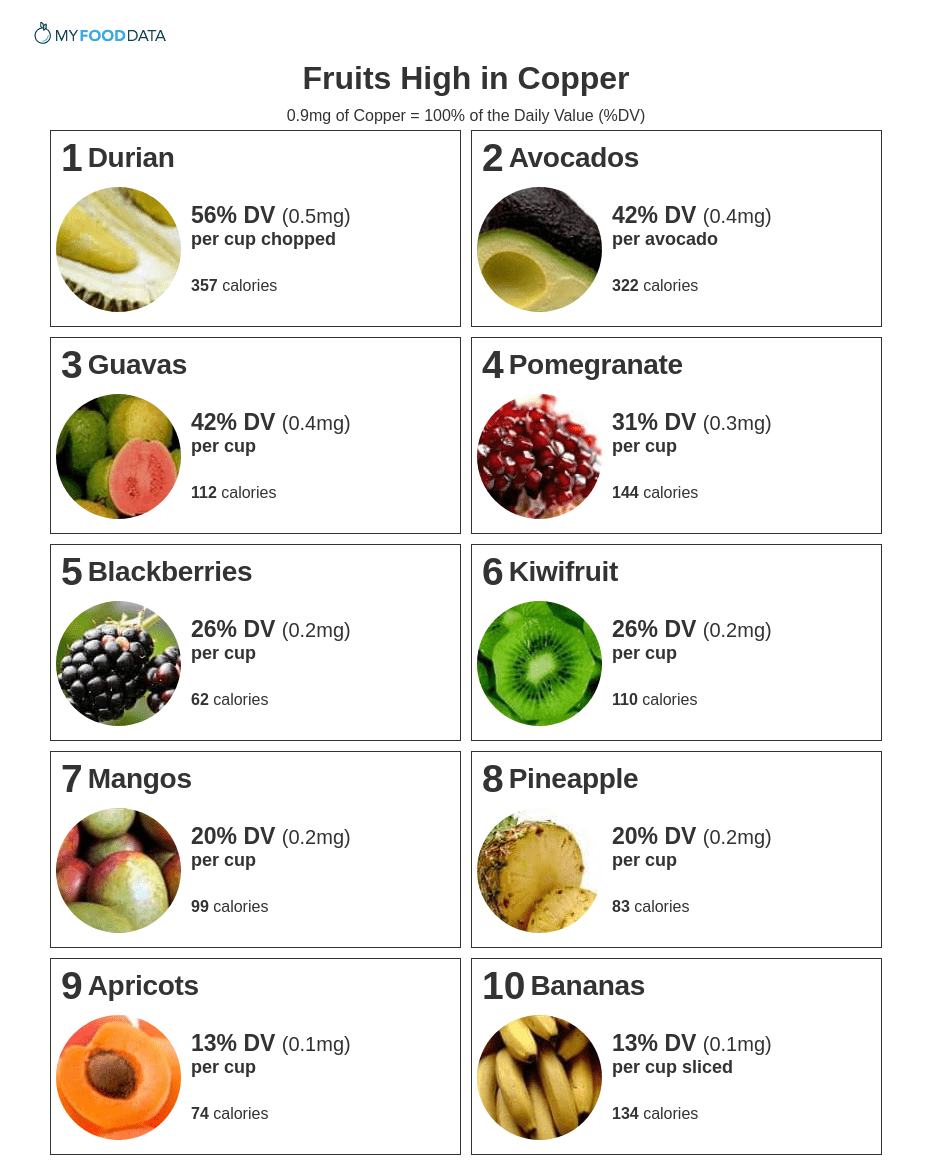 Click to View Comments
Feedback || Subscribe