Cheese High in Vitamin B12
Written by Daisy Whitbread, MScN
Cheese, in addition to being a good vegetarian source of protein, is also a great natural source of vitamin B12 for vegetarians.
This list of high vitamin B12 cheeses lists the amount of vitamin B12 per ounce. An ounce of cheese is equal to 28 grams or about a slice of cheese which is large enough to cover a piece of bread. On average an ounce of cheese provides 0.34μg (6% DV) of vitamin B12, 87 calories, and 6 grams of protein.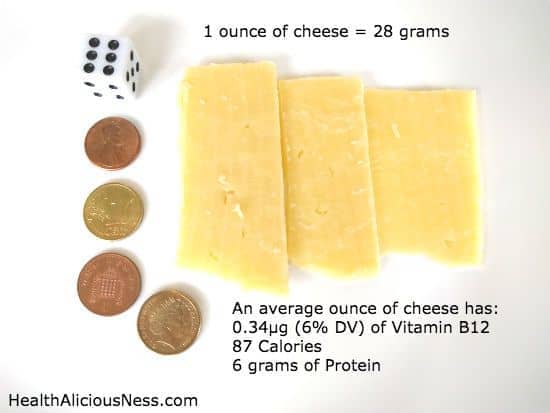 Below is a list of over 40 cheeses ranked by their amount of vitamin B12. Whole milk Swiss Cheese provides the most with 0.9μg (14% DV) per ounce. Goat cheese provides the least with barely 0.03μg (1% DV). For more information, see the article on natural vegetarian sources of vitamin B12.