20 Cheeses High in Protein
Powered by

USDA Nutrition Data

.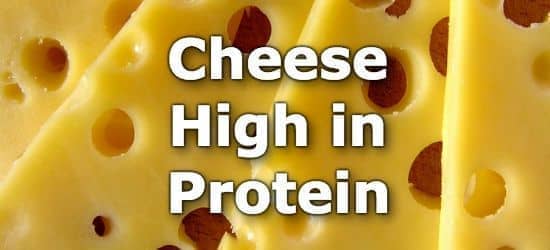 For vegetarians or anyone simply looking to get more protein into their diet, cheese can be a good choice, but which are the healthiest choices? Here is a list of 20 different kinds of cheese that provide the most protein per oz or half cup.
An ounce of cheese is typically equal to a thin slice that would cover a piece of toast.
The current daily value (DV) for protein is 50 grams per day. Cheeses high in protein include ricotta, low-fat cottage cheese, Parmesan, Romano, non-fat cheddar, gruyere, low-fat Swiss, fontina, and more.
In general, cheeses which are low in fat will provide more protein per serving, however, this is not always the case. For more high protein foods, see the articles on vegetarian protein foods, beans high in protein, grains high in protein, and nuts high in protein.
List of High Protein Cheese
About the Data
Data for the curated food lists comes from the USDA Food Data Central Repository.
You can check our data against the USDA by clicking the (Source) link at the bottom of each food listing.
Note: When checking data please be sure the serving sizes are the same. In the rare case you find any difference, please contact us and we will fix it right away.
From the Nutrient Ranking Tool
Use the ranking tool links below to select foods and create your own food list to share or print.


View more nutrients with the nutrient ranking tool, or see ratios with the nutrient ratio tool.
Data Sources and References
feedback