Top 10 Grains Highest in Protein
Grains are a staple source of calories, carbohydrates, b-vitamins, and protein. Whole unrefined grains provide more protein for each carb because the bran and germ of grains contain the most protein per carb.
The current daily value (%DV) for protein is 50 grams per day, and is a target meant for most people. Grains high in protein include cornmeal, kamut (wheat berries), teff, quinoa, whole wheat pasta, wild rice, millet, couscous, oatmeal, and buckwheat. One cup of cooked whole grains provides between 6-20% of the DV for protein.
For more grains high in protein see the extended list of protein rich grains, and complete vegetarian protein foods.
List of High Protein Grains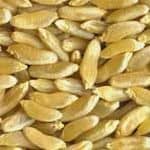 #1: Kamut (Khorasan - Wheat)
| | |
| --- | --- |
| Protein per Cup | Protein per 100g |
| 20% DV (9.8g) | 11% DV (5.7g) |
Source:
Nutrition Facts for Kamut Cooked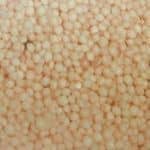 #2: Teff
| | |
| --- | --- |
| Protein per Cup | Protein per 100g |
| 20% DV (9.8g) | 8% DV (3.9g) |
Source:
Nutrition Facts for Cooked Teff

#3: Quinoa
| | |
| --- | --- |
| Protein per Cup | Protein per 100g |
| 16% DV (8.1g) | 9% DV (4.4g) |
Source:
Nutrition Facts for Quinoa Cooked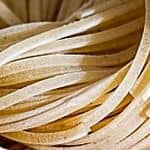 #4: Whole Wheat Pasta
| | |
| --- | --- |
| Protein per Cup | Protein per 100g |
| 14% DV (7g) | 12% DV (6g) |
Source:
Nutrition Facts for Whole Wheat Pasta

#5: Wild Rice
| | |
| --- | --- |
| Protein per Cup | Protein per 100g |
| 13% DV (6.5g) | 8% DV (4g) |
Source:
Nutrition Facts for Cooked Wild Rice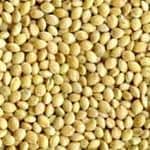 #6: Millet
| | |
| --- | --- |
| Protein per Cup | Protein per 100g |
| 12% DV (6.1g) | 7% DV (3.5g) |
Source:
Nutrition Facts for Cooked Millet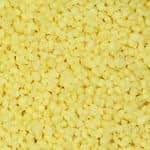 #7: Coucous
| | |
| --- | --- |
| Protein per Cup | Protein per 100g |
| 12% DV (6g) | 8% DV (3.8g) |
Source:
Nutrition Facts for Cooked Couscous

#8: Oatmeal
| | |
| --- | --- |
| Protein per Cup | Protein per 100g |
| 12% DV (5.9g) | 5% DV (2.5g) |
Source:
Nutrition Facts for Cooked Oatmeal

#9: Buckwheat
| | |
| --- | --- |
| Protein per Cup | Protein per 100g |
| 11% DV (5.7g) | 7% DV (3.4g) |
Source:
Nutrition Facts for Roasted Buckwheat Groats

#10: Cornmeal (Grits)
| | |
| --- | --- |
| Protein per Cup | Protein per 100g |
| 9% DV (4.4g) | 3% DV (1.7g) |
Source:
Nutrition Facts for White Cornmeal (Grits)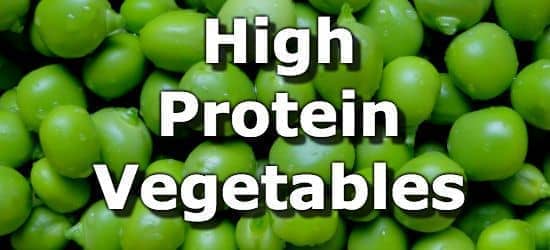 Next ➞
Click to View Comments
Data Sources and References
Feedback || Subscribe