Foods Low in Vitamin K for a Warfarin (Coumadin) Diet
Evidence Based.
References sourced from PubMed.
Powered by

USDA Nutrition Data

.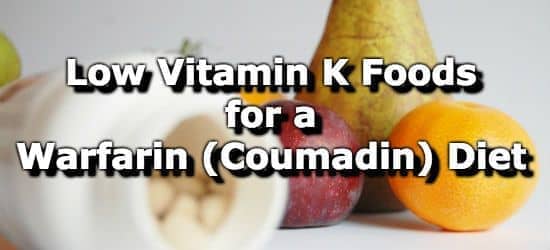 If you are taking an anticoagulant or a blood thinner, like Warfarin (Coumadin), then it is important to keep your PT/INR (Prothrombin Time and International Normalized Ratio) levels stable. PT/INR measures factors for blood coagulation.
The amount of vitamin K you can eat while taking warfarin depends on your dose. Studies suggest that effects on coagulation only occur after eating 150mcg (micrograms) of vitamin K. (1) What is important is that your intake of vitamin K stays consistent. (1,2) Having a cheat day where you eat a large amount of vitamin K, like a spinach salad, could be harmful.
High amounts of vitamin K are mainly found in green vegetables like kale, spinach, cucumbers, and cabbage.
This is a guide to which foods you can eat and in what amounts. The exact amounts will depend on your dosage of Warfarin. Listed below are foods very high in vitamin K (240mcg+ per serving), and high in vitamin K (60mcg+ per serving).
The current daily value (DV) for Vitamin K is 120 micrograms (mcg). (3) It is displayed in this article to help you compare levels of vitamin K in foods. Depending on your doctor and situation 120mcg for men and 90mcg for women may be a generally accepted target for Vitamin K while one Warfarin.
Foods low in vitamin K are also presented by food group with sample serving sizes and amounts of vitamin K. For more ideas, use the nutrient ranking tool to sort by food group and serving size.
General guidelines when taking Warfarin (Coumadin)
A low INR means you have an increased risk of clotting
A high INR means you have an increased risk of bleeding
Warfarin increases INR, Vitamin K decreases it
Most doctors aim to keep INR around 2-3, but it can go up to 2.5-3.5 for people with heart valve issues or other extreme cases (4)
When a doctor prescribes Warfarin, they are trying to balance it with how much vitamin K you eat (2)
Regularly check your PT/INR levels
Take Warfarin as directed by your care provider
Keep your intake of vitamin K consistent from day to day
Eliminate alcohol if you can, or limit yourself to no more than 3 drinks a day (5)
Take no more than 800IU of vitamin E supplements
Avoid cranberries and cranberry juice as they can raise INR and risk of bleeding (6)
Limit or avoid grapefruit and grapefruit juice
Avoid drinking green tea as it antagonizes Warfarin and lowers INR (7)
Work with your doctor when taking CoQ10 as it can hamper the effectiveness of Warfarin (8)
Avoid Tobacco (9)
Many natural herbs, roots, berries, and supplements affect PT/INR levels, so it is best to avoid them unless your doctor advises otherwise. The following supplements definitely affect PT/INR levels: (9)

Arnica
Bilberry
Butcher's Broom
Cat's Claw
Chamomile Tea
Chitosan
Dong Quai
Feverfew
Forskolin
Garlic
Ginger
Gingko
Goji Berries
Horse Chestnut
Insositol Hexaphosphate
Licorice
Melilot (Sweet Clover)
Pau D'arco
Red Clover
St. John's Wort
Sweet Woodruff
Turmeric
Willow Bark
Wheat Grass
Wolfberry
---
List of Common Foods with more than 240mcg (200% DV) of Vitamin K
List of Common Foods with more than 60mcg (50% DV) of Vitamin K
Foods Low in Vitamin K to eat on a Warfarin (Coumadin) Diet
Vegetables Low in Vitamin K
Grains (Starches) Low in Vitamin K
Other Food Groups Low in Vitamin K
Warnings
Avoid making any big changes to your diet. If you try any new food, try it in small quantities and monitor your PT/INR
Even though a food is low in vitamin K it does not mean that it will not interact with Warfarin (Coumadin). This article is intended as a general guide for foods low in vitamin K and is for information purposes only. As stated above, try new foods with caution and consult health care providers or literature before trying new foods.
Next ➞
About the Data
Data for the curated food lists comes from the USDA Food Data Central Repository.
You can check our data against the USDA by clicking the (Source) link at the bottom of each food listing.
Note: When checking data please be sure the serving sizes are the same. In the rare case you find any difference, please contact us and we will fix it right away.
From the Nutrient Ranking Tool
Use the ranking tool links below to select foods and create your own food list to share or print.


View more nutrients with the nutrient ranking tool, or see ratios with the nutrient ratio tool.
Data Sources and References
feedback