Foods to Avoid to Protect Your Heart
Evidence Based.
References sourced from PubMed.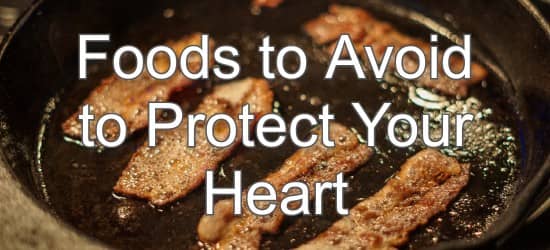 A heart-healthy diet is a balanced and varied diet, high in plant foods and based on whole, unprocessed foods. It should include plenty of fruits, vegetables, whole grains, pulses, nuts, seeds, and fish (if eaten). Processed foods, red meat, and foods high in saturated fats should be minimized.
Heart disease is a leading cause of death in the world. There are also some specific foods, food ingredients, and food groups that are particularly harmful to the health of the cardiovascular system.
They cause harm in several ways: by raising blood pressure, increasing cholesterol levels, damaging blood vessels, or promoting harmful processes in the body, such as oxidation and inflammation.
Limit and avoid the following foods to protect your heart.
Foods to Avoid to Protect Your Heart
1
Salt

A diet with too much
salt (sodium)
increases blood pressure, and high blood pressure is a risk factor for stroke and cardiovascular disease (
1
,
2
). There is also some evidence that salt can directly damage blood vessels, the heart, and other organs (
3
). The vast majority of
salt in our diets
comes from processed foods, which account for around 75% of the total salt we consume (only 25% comes from the salt we add to food ourselves). Reducing processed foods is therefore the best way to reduce your salt intake. The WHO recommends no more than 5g of salt per day for adults.
2
Trans (Hydrogenated) Fats

The WHO estimates that trans fats are the cause of 540,000 deaths every year (
4
) and they are strongly linked to an increased risk of cardiovascular disease (
5
,
6
,
7
). Some countries have made them illegal as they are so damaging. They are produced industrially when liquid vegetable oils are hydrogenated, turning them into a solid fat and extending their shelf-life. They alter the way cells behave, resulting in unfavourable changes including raised cholesterol and weight gain. Check food labels for hydrogenated or partially hydrogenated fats.
3
Processed meat

Regular consumption of processed meat is linked with an increased risk of cardiovascular disease, obesity, diabetes, and some cancers (
8
,
9
,
10
,
11
). Processed meats are high in several harmful components including
salt
,
saturated fat
, and nitrates. They are often low quality, being composed of the parts left after the usual cuts of meat have been taken from the animal. For cardiovascular and overall health, it is advisable to avoid processed meats such as ham, bacon, salami, hotdogs, burgers, luncheon meats, beef jerky, and sausages.
4
Red meat

Frequent consumption of red meat is also linked with various negative health outcomes, including an increased risk of heart disease (
10
,
11
). One study estimated that eating 100g red meat per day (an average steak weighs around 200g), leads to an 11% increased risk of stroke and 15% increased risk of cardiovascular deaths (
12
). Red meat is a source of
saturated fat
, present in varying amounts, depending on the variety and cut of the meat. If you do consume red meat, it is advisable to limit it to a maximum of twice per week.
5
Processed and ultra-processed foods

High consumption of processed and especially ultra-processed foods is linked with an increased risk of cardiovascular disease, stroke, and high blood pressure (
13
,
14
). These are highly processed foods, designed by the food industry to be highly palatable, usually due to a combination of
sugar
,
salt
,
fat (saturated and trans)
, flavorings, flavor enhancers, sweeteners, and other artificial additives (
15
). They typically contain no or very few beneficial nutrients, just empty calories. Examples include ready meals, fast foods, packaged bread, cakes and biscuits, packaged cereals, many snack foods, candy and confectionary, instant noodles, and soft drinks.
6
Saturated fat

A diet high in
saturated fat
is associated with elevated cholesterol levels and risk of heart disease (
16
). Although there has been some debate in recent years over this association, the guidelines still recommend that saturated fat should account for no more than 10% of total calorie intake (
17
) (or just 5-6% according to the American Heart Association). Replacing saturated fats with mono and polyunsaturated fats (olive oil, avocado, oily fish, nuts, seeds etc.) produces the most benefit (
18
). The main sources of saturated fats are fatty meats, animal fats (lard, tallow, suet), full-fat dairy, pastry, and other baked goods, sauces, palm oil, fast foods, and fried foods.
7
Sugar

Consuming a diet
high in added sugars
leads to weight gain, which is a key risk factor for cardiovascular disease (
19
). In addition, a high sugar diet promotes inflammation in the body, which is a harmful process involved in the development of heart disease and many other diseases (
20
). Furthermore, when sugar reacts with certain body tissues, it can lead to the formation of advanced glycation end products (aptly named AGEs). This results in cells becoming stiff and prone to damage, along with premature aging in the body and an increased risk of cardiovascular problems (
21
).
8
Deep Fried Foods

Eating fried and deep-fried foods has been linked with a higher risk of high blood pressure (
22
), heart disease (
23
), coronary artery disease (
24
), and heart failure (
25
). In particular, there is evidence of harm from regular consumption of fried chicken and fried fish (
26
,
27
). When cheap oils are heated to very high temperatures and re-used, which is common practice with deep-fried foods made at home or in restaurants and takeaways, trans fats are also created. Deep-fried foods tend to also have substantial amounts of
sugar
and
salt
added to them, making them even worse. Common deep-fried foods include fried chicken, chicken wings, donuts, battered fish, chips, French fries, onion rings, Indian snack foods (samosa, pakora etc.).
Lifestyle Factors to Avoid to Prevent Heart Disease
Weight gain - maintaining a healthy weight is one of the best ways to reduce your risk of heart disease. Keeping your BMI at the lower end of the healthy range, at around 20 or 21 will give you the lowest risk.
Sedentary lifestyle - sitting down for long periods is detrimental to overall and cardiovascular health. Just getting up and walking around every hour (or even better every half hour) is beneficial (set an alarm while you get into the habit) and performing tasks standing instead of sitting whenever possible. For example, walk around while on the phone and try a standing desk if you have a desk job.
Smoking - still the leading cause of preventable deaths and increases the risk of cardiovascular disease as well as many other health problems.
Alcohol - a small glass of red wine may have some benefits, but drinking more than this increases your risk of cardiovascular and other health problems.
Stress - stress is another key risk factor for cardiovascular problems, so including stress-relieving techniques such as exercise, yoga, meditation or breathing exercises is beneficial.
Data Sources and References
feedback