Low Vitamin K Juice Recipes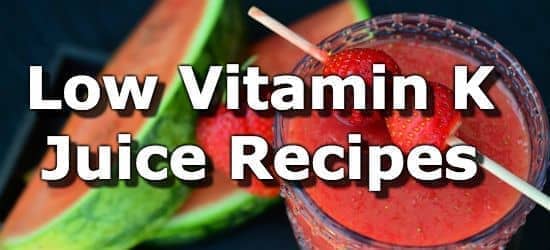 Vitamin K, the blood coagulation vitamin, antagonizes the effect of blood thinners like Warfarin (Coumadin). Thus, if you are taking such a blood thinner it is important to keep your vitamin K intake consistent.
Since most green vegetables, and "juicing vegetables" are high in vitamin K, it is best not to make juice from them. Juices should be made from low vitamin K fruits, and/or dairy products. Soy products should be avoided, however, juice from other beans and grains is generally ok.
Fruits that affect PT/INR and warfarin should be avoided. These include citrus (grapefruit, oranges, lemons, limes), cranberries, pomegranate, mangoes, and blueberries.
For a list of low vitamin K foods to use, see the article on low vitamin K foods for a warfarin diet. You can also use the nutrient ranking tool to find more foods low in vitamin K. Below are some sample low-vitamin K juice recipes.
Juice Recipes Low in Vitamin K
Data Sources and References
feedback