Beans and Legumes Low in Net Carbs
Beans are a good source of protein, fiber, and energy for our bodies. Net carbs are equal to total carbohydrates minus the amount of fiber. The theory is that we do not digest the carbohydrates trapped in fiber.
Beans and legumes low in net carbs include tofu, soybeans, mung beans, lentils, broad beans, black-eyed peas, great northern beans, black beans, limas, and navy beans.
---
List of Beans Low in Net-Carbs

#1: Firm Tofu
| Net-carbs per Cup | Net-carbs per 100g |
| --- | --- |
| 1.2g | 0.5g |
Source:
Nutrition Facts for Firm Tofu
-12.7g Net-Carbs in 1 cup of Natto (Fermented Soybeans)

#2: Boiled Soybeans (Edamame)
| Net-carbs per Cup | Net-carbs per 100g |
| --- | --- |
| 4.1g | 2.4g |
Source:
Nutrition Facts for Boiled Soybeans (Edamame)
-6.1g Net-Carbs in a 16oz glass of Unsweetened Soymilk

#3: Mung Beans
| Net-carbs per Cup | Net-carbs per 100g |
| --- | --- |
| 23.3g | 11.6g |
Source:
Nutrition Facts for Mung Beans (Cooked)

#4: Lentils
| Net-carbs per Cup | Net-carbs per 100g |
| --- | --- |
| 24.2g | 12.2g |
Source:
Nutrition Facts for Lentils (Cooked)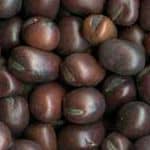 #5: Broad Beans (Fava)
| Net-carbs per Cup | Net-carbs per 100g |
| --- | --- |
| 24.2g | 14.3g |
Source:
Nutrition Facts for Broad Beans (Fava)

#6: Black-Eyed Peas (Cowpeas)
| Net-carbs per Cup | Net-carbs per 100g |
| --- | --- |
| 24.4g | 14.3g |
Source:
Nutrition Facts for Black-eyed Peas (Cowpeas)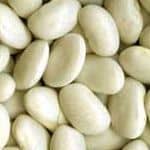 #7: Great Northern Beans
| Net-carbs per Cup | Net-carbs per 100g |
| --- | --- |
| 24.9g | 14.1g |
Source:
Nutrition Facts for Great Northern Beans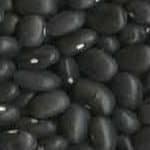 #8: Black Beans (Frijoles Negros)
| Net-carbs per Cup | Net-carbs per 100g |
| --- | --- |
| 25.8g | 15g |
Source:
Nutrition Facts for Black Beans

#9: Lima Beans
| Net-carbs per Cup | Net-carbs per 100g |
| --- | --- |
| 26.1g | 13.9g |
Source:
Nutrition Facts for Lima Beans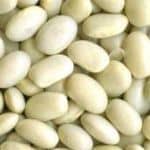 #10: Navy Beans
| Net-carbs per Cup | Net-carbs per 100g |
| --- | --- |
| 28.3g | 15.6g |
Source:
Nutrition Facts for Navy Beans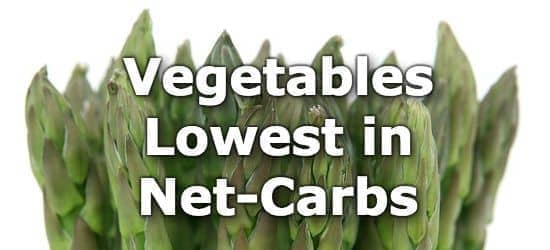 Next ➞
Click to View Comments
Data Sources and References
Feedback || Subscribe