Top 10 Fruits Low in Net Carbs
Fruits are a good source of fiber, vitamins, and energy for our bodies. Net carbs are equal to total carbohydrates minus the amount of fiber. The theory is that we do not digest the carbohydrates trapped in fiber.
Fruits low in net carbs include avocados, blackberries, raspberries, asian pears, prickly pears, strawberries, watermelon, mulberries, peaches, and cantaloupe. Below are the ten fruits lowest in net carbs, for more ideas on what fruits to eat, see the list of fruits high in fiber, and fruits low in sugar. You can also see the list of over 100 fruits low in net-carbs.
---
List of Fruits Low in Net-Carbs

#1: Avocados
| Net-carbs per Avocado | Net-carbs per 100g |
| --- | --- |
| 3.7g | 1.8g |
Source:
Nutrition Facts for Avocados

#2: Blackberries
| Net-carbs per Cup | Net-carbs per 100g |
| --- | --- |
| 6.2g | 4.3g |
Source:
Nutrition Facts for Blackberries

#3: Raspberries
| Net-carbs per Cup | Net-carbs per 100g |
| --- | --- |
| 6.7g | 5.4g |
Source:
Nutrition Facts for Raspberries

#4: Asian Pear
| Net-carbs per Fruit | Net-carbs per 100g |
| --- | --- |
| 8.6g | 7.1g |
Source:
Nutrition Facts for Asian Pears

#5: Prickly Pears
| Net-carbs per Cup | Net-carbs per 100g |
| --- | --- |
| 8.9g | 6g |
Source:
Nutrition Facts for Prickly Pears

#6: Strawberries
| Net-carbs per Cup | Net-carbs per 100g |
| --- | --- |
| 9.4g | 5.7g |
Source:
Nutrition Facts for Strawberries

#7: Watermelon
| Net-carbs per Cup | Net-carbs per 100g |
| --- | --- |
| 11g | 7.2g |
Source:
Nutrition Facts for Watermelon

#8: Mulberries
| Net-carbs per Cup | Net-carbs per 100g |
| --- | --- |
| 11.3g | 8.1g |
Source:
Nutrition Facts for Mulberries

#9: Peaches
| Net-carbs per Cup | Net-carbs per 100g |
| --- | --- |
| 12.4g | 8g |
Source:
Nutrition Facts for Yellow Peaches

#10: Cantaloupe
| Net-carbs per Cup | Net-carbs per 100g |
| --- | --- |
| 12.9g | 7.3g |
Source:
Nutrition Facts for Cantaloupe Melons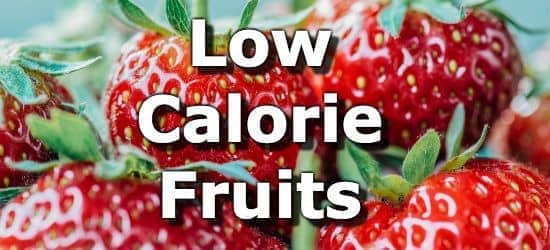 Next ➞
Click to View Comments
Data Sources and References
Feedback || Subscribe