Foods High in Docosahexaenoic Acid (DHA)
DHA (Docosahexaenoic acid) is an omega 3 fatty acid primarily responsible for the healthy development of the brain and retina (eyesight). (1,2) Further, some studies show cognitive benefits from DHA in older adults, improving memory and learning. (3)
DHA is found primarily in fish and seafood. (4) It can also be created by the body using alpha-linolenic acids (ALAs). (5) Since DHA is important for cognitive development, it is also found in breast milk. (6) This is true even if the mother does not consume fish or any animal products, as DHA is made from ALAs which are found in plants.
Foods high in DHA include salmon, tuna, canned tuna, trout, mussels, oysters, cod, fish eggs, pickled herring, clams, and snow crab. (4) Pregnant women should avoid mackerel, swordfish, and striped bass due to their potential mercury content. All other sources should be considered safe and healthy as long as they are fresh and well prepared.
For more foods high in DHA see the list of 200 foods high in DHA fats, and the list of foods high in omega 3 fats.
---
List of Foods Highest in DHA

#1: Fish (Salmon)
DHA per 6oz Fillet
DHA per 100g
4mg Omega 3 per 1mg Omega 6
Source:
Nutrition Facts for Farmed Atlantic Salmon
-637mg DHA per 3oz of canned salmon

#2: Tuna
DHA in a 6oz Fillet
DHA per 100g
25mg Omega 3 per 1mg Omega 6
Source:
Nutrition Facts for Bluefin Tuna (Cooked)
-535mg DHA per 3oz of canned tuna

#3: Trout
DHA per Fillet
DHA per 100g
4mg Omega 3 per 1mg Omega 6
Source:
Nutrition Facts for Cooked Trout

#4: Mussels
DHA per 3oz
DHA per 100g
25mg Omega 3 per 1mg Omega 6
Source:
Nutrition Facts for Cooked Blue Mussels

#5: Oysters
DHA per 3oz Serving
DHA per 100g
25mg Omega 3 per 1mg Omega 6
Source:
Nutrition Facts for Cooked Pacific Oysters

#6: Atlantic Cod
DHA per 6oz Fillet
DHA per 100g
29mg Omega 3 per 1mg Omega 6
Source:
Nutrition Facts for Cooked Atlantic Cod

#7: Fish Roe (Ikura, Caviar)
DHA per Tblsp
DHA per 100g
84mg Omega 3 per 1mg Omega 6
Source:
Nutrition Facts for Fish Roe

#8: Pickled Herring
DHA per Oz
DHA per 100g
7mg Omega 3 per 1mg Omega 6
Source:
Nutrition Facts for Pickled Herring

#9: Clams
DHA per 3oz Serving
DHA per 100g
13mg Omega 3 per 1mg Omega 6
Source:
Nutrition Facts for Cooked Clams

#10: Snow Crab (Queen Crab)
DHA per 3oz
DHA per 100g
61mg Omega 3 per 1mg Omega 6
Source:
Nutrition Facts for Queen Crab (Cooked)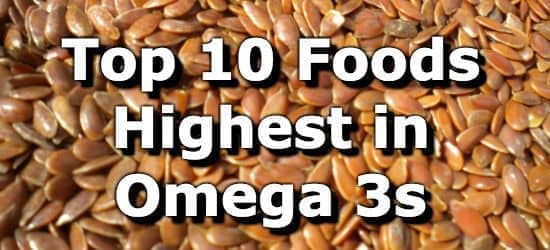 Next ➞
Printable One Page Sheet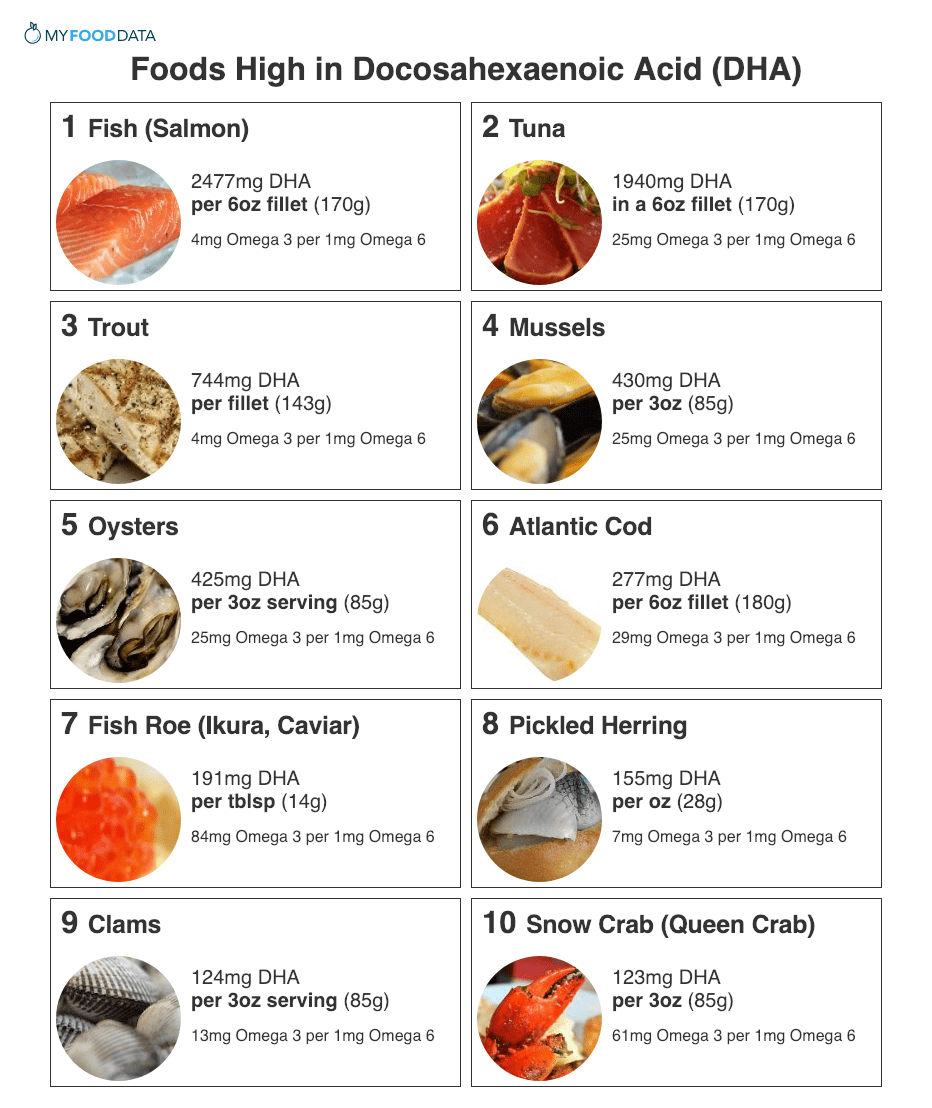 Click to View Comments
Data Sources and References
Feedback || Subscribe