The Complete Guide to Recommended Daily Intakes and Daily Values
When trying to consume the healthiest diet, it helps to have an understanding of how much of each nutrient you should try to consume. Several targets have been created so that you eat the right amount of each nutrient.
The most popular and common of these in the U.S. is the Daily Value or (%DV) this is the percentage that you see on all nutrition facts labels. In addition to this, there is the Recommended Daily Intake (RDI), and Tolerable Upper Limit (UL) that any person should consume.
If you are confused, don't worry, this article will clarify it for you, and give you a table with all the numbers.
What is the main difference between the Daily Value, Recommended Daily Intake, and Upper Limit?
In short, the Recommended Daily Intake (RDI) tries to define how much of a nutrient each person should have based on their age and gender. The Daily Value (DV) builds on the RDI but is a number that should work for everyone, regardless of age, etc... As such, the DV tends to be higher than the RDI. The Upper Limit (UL) is simply the highest amount of any nutrient you should consume. So while the RDI sets the target, the UL sets the limit.
How wide is the range between too much (toxicity) or too little (deficiency) for any nutrient?
In the "Bathtub" curve graph below, we see that the RDI is set to cover 98% of all people, and is considerably higher than the "average amount" most people need. After that, there is generally a wide gap where you can consume more of a nutrient, before hitting the Upper Limit where problems from toxicity will appear.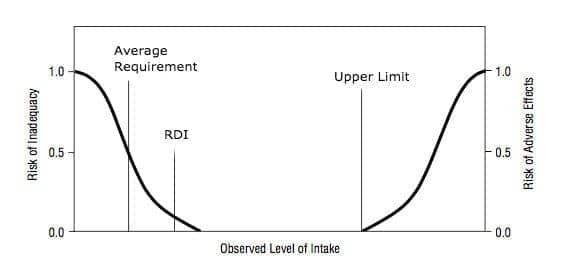 What does the average person look like for these recommended intakes?
Determining a Recommended Daily Intake depends on a variety of factors, and is the amount of any nutrient a person needs is different from person to person. That said, age, gender, height, and weight, are 4 of the main factors used. Below are the characteristics for males and females used in determining the RDIs reported in the table below:
For Males aged 19 to 30
BMI - 22.5
Height 177cm (70 inches)
Weight 70kg (154lbs)
For Females 19-30
Average BMI - 22.5
Height 177cm (70 inches)
Weight 70kg (154lbs)
What factors can require you to adjust the RDI for you?
Groups that need to consume more than the RDI suggestions
Being Taller than Average
Being Heavier than Average (Muscle or Fat)
Older people (over 30)
Pregnant and Lactacting Women need more of certain nutrients
Groups with a higher risk of deficiencies that should consume more
Smokers
Vegetarians and Vegans
Menstruating Women (For Iron)
Alcoholics
Table of RDI, DV, and UL for Each Nutrient
This table is for an adult male, average weight of 154lbs (70kg) and height of 70inches (177cm).
Macronutrients
Nutrient
RDI
DV
UL
Calories
2000
2000
N/A
Fat
N/A
65g
N/A
Saturated Fat
N/A
20g
N/A
Cholesterol
N/A
300mg
N/A
Carbs
130g
300g
N/A
Fiber
38g
25g
N/A
Sugar
N/A
N/A
N/A
Protein
56g
50g
N/A
Vitamins
Nutrient
RDI
DV
UL
Vitamin A
900μg (RAE)
3000IU
3000μg (RAE)
Vitamin B1
1.2mg
1.2mg
N/A
Vitamin B2
1.3mg
1.3mg
N/A
Vitamin B3
16mg
16mg
35mg
Vitamin B5
N/A
5mg
N/A
Vitamin B6
1.3mg
1.7mg
100mg
Vitamin B9
400μg
400μg
1000μg
Vitamin B12
2.4μg
2.4μg
N/A
Vitamin C
90mg
90mg
2000mg
Vitamin D
N/A
20μg
N/A
Vitamin E
15mg
15mg
1000mg
Vitamin K
N/A
120mg
N/A
Choline
N/A
550mg
3500mg
Lycopene
N/A
N/A
N/A
Lutein+zeazanthin
N/A
N/A
N/A
Minerals
Nutrient
RDI
DV
UL
Calcium
N/A
1300mg
2500mg
Copper
0.9mg
0.9mg
10mg
Iodine
150μg
N/A
1100μg
Iron
8mg
18mg
45mg
Magnesium
400mg
420mg
N/A
Manganese
N/A
2.3mg
11mg
Phosphorus
700mg
1250mg
4000mg
Potassium
4700mg
4700mg
N/A
Selenium
55μg
55μg
400μg
Sodium
1500mg
2400mg
N/A
Zinc
11mg
11mg
40mg
Ash
N/A
N/A
N/A
Water
N/A
N/A
N/A
Carbs and Sugars
Nutrient
RDI
DV
UL
Starch
N/A
N/A
N/A
Sucrose
N/A
N/A
N/A
Glucose
N/A
N/A
N/A
Fructose
N/A
N/A
N/A
Lactose
N/A
N/A
N/A
Maltose
N/A
N/A
N/A
Galactose
N/A
N/A
N/A
Fatty Acids
Nutrient
RDI
DV
UL
Omega 3s
1600mg
N/A
N/A
Omega 6s
N/A
N/A
N/A
Amino Acids
Nutrient
RDI
DV
UL
Tryptophan
280mg
N/A
N/A
Histidine
700mg
N/A
N/A
Threonine
1050mg
N/A
N/A
Isoleucine
1400mg
N/A
N/A
Lysine
2100mg
N/A
N/A
Leucine
2730mg
N/A
N/A
Methionine
728mg
N/A
N/A
Cystine
287mg
N/A
N/A
Phenylalanine
875mg
N/A
N/A
Tyrosine
875mg
N/A
N/A
Valine
1820mg
N/A
N/A
Arginine
N/A
N/A
N/A
Alanine
N/A
N/A
N/A
Aspartic Acid
N/A
N/A
N/A
Glutamic Acid
N/A
N/A
N/A
Glycine
N/A
N/A
N/A
Proline
N/A
N/A
N/A
Serine
N/A
N/A
N/A
Hydroxyproline
N/A
N/A
N/A
*1.6g is the Adequate Intake (AI) for Omega 3s. Adequate Intake is assumed to ensure nutritional adequacy; and is established when evidence is insufficient to develop an RDA. (
Source
)